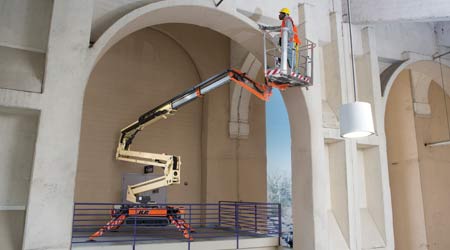 Updates To ANSI Standards Impact Lift Specification
Updated ANSI standards, combined with training and safety considerations, present challenges for managers.
As commercial and institutional facilities of all kinds become smarter and more complex, more things can go wrong, especially in hard-to-reach places that often require front-line technicians to use lifts and aerial work platforms to move themselves, their tools and the needed materials.
But before technicians can safely and productively operate lifts, maintenance and engineering managers must make sure they have had the proper safety training and understand all lift features and functions. Technicians can create hazards if they operate lifts with which they are not familiar.
Spotlight on standards
Perhaps the most important issue for managers and technicians related to the safe operation is understanding the new American National Standards Institute (ANSI) lift safety standards that were released in 2017. Previously updated in 2006, ANSI creates standards that govern the design and use of aerial work platforms across North America. The updated 2017 standards, ANSI/SIA A92, Elevating and Vehicle Lift Devices, address changes to terminology, owner and operator training, lift classification, machine design and safe use.
"Safety training has changed quite dramatically in the last year with the new ANSI standards being released," says David Kesser, president of Teupen North America. "These changes will require manufacturers to perform additional testing and add safety features on the aerial devices. There is also a new manual of responsibilities for owners, managers, and operators that each facility manager should be aware of moving forward."
The terminology of lifts and aerial work platforms might be the most noticeable change among the new A92 standards. "Lifts and aerial work platforms will now be referred to as mobile elevating work platforms, or MEWPs," says Rick Smith with JLG Industries. "The anticipated changes will move North American manufactured machines more toward a global model." Managers and operators who are familiar with the new requirements under A92 can better understand the machines, their specific advantages and limitations, and the safest ways to operate them safely.
"It's equally if not more important for people to understand all the hazards of the environment and application of where they are working," says Jason Solhjem with Reechcraft. "More and more, today's operators are being educated and trained to perform hazard and risk assessments to identify and mitigate all the potential hazards to an acceptable level. By thinking about potential hazards and how they can be minimized or avoided, the operators are in a better position to choose the appropriate equipment and perform their jobs safely."
Continue Reading:

Lifts

Updates To ANSI Standards Impact Lift Specification

Lifts: Equipment Advances Enhance Safety Features

Lifts: Safe Operation Requires Training
---
---
---
Related Topics: