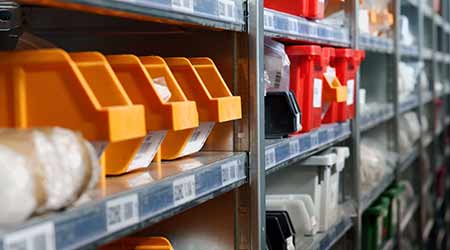 SIDEBAR: Inventory Insight — Parts and Priorities
Part one of a 4-part article on inventory management
Improving the efficiency of inventory management systems for maintenance and engineering departments requires changing certain procedures. One important change involves setting priorities.
Supervisors overseeing inventory need to assign a priority for each spare part and piece of equipment in stock. High-priority items are used most often or are critical to the operation of a particular piece of equipment or system and, in the event of a shortage, could result in significant damage or loss.
Supervisors need to closely monitor these items, even to the point of conducting a physical count monthly. Medium- and low-priority items also require physical counts but typically only annually or biannually.
Supervisors need to be careful and reasonable when assigning priorities. Too often, even the most trivial items are deemed high priority. But if everything is a high priority, then nothing is a high priority. Supervisors need to reserve the high-priority category for only those items that truly are critical.
Supervisors also need to complete an inventory count of items in the system. Even with a fully computerized inventory management system, inaccuracies exist, particularly if individual shops continue to stock items off the system. Only by completing this inventory can managers accurately determine their technicians' inventory needs.
Continue Reading:

Material Handling

Taking Stock: CMMS and Inventory Management

Buying into CMMS-Based Inventory System Challenge for Managers

Fine-Tuning Parts Inventory with CMMS

SIDEBAR: Inventory Insight — Parts and Priorities
---
---
---
Related Topics: