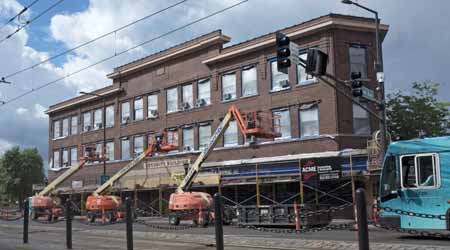 Lifts: New Heights for Maintenance
A new generation of mobile elevating work platforms gives technicians greater access to facilities' hard-to-reach areas
Mobile elevating work platforms give front-line maintenance and engineering technicians access to hard-to-reach areas of institutional and commercial facilities. Among the most common of these areas are gym and auditorium ceilings and exterior facades.
With each new generation of platforms and lifts comes expanded capabilities and features designed to address evolving maintenance needs and applications. By becoming familiar with the latest generation of lift offerings, managers will find themselves in a better position to specify the most appropriate lifts based on their facilities' maintenance needs.
Controls considerations
Continuous technology improvement has resulted in lifts that offer more and better features and controls. New controls, features and functions, which have been designed to meet technician's most common challenges, including these advances:
• Controlling a load is more effective with an automatic fork leveler that resets the forks to level with the push of a button.
• A mast-mounted wireless camera system with four cameras can be mounted anywhere.
• A monitor in the operator compartment keeps the load and surroundings in sight at all times.
Another control improvement is active stability control, which reduces accidents from improper turns and tip-overs. This control system takes 3,000 readings per second to detect unsafe operation. When a sensor alerts the operator to instability, a cylinder instantly engages and stabilizes the rear axle, counteracting the risk of a lateral tip-over.
Controls that monitor mast height and load weight can address the threat of tipover by a front tilt with elevated load. If an unstable combination occurs, an automatic control overrides the manual operator control and prevents the tilt from going beyond a safe limit. While the U.S. Safety and Health Administration has not mandated a safe turning speed, 5 miles per hour is the generally accepted limit. Lift speed radar systems deter speeding on turns, which is a dangerous practice.
Continue Reading:

Lifts

Lifts: New Heights for Maintenance

Lift Advances Target Access, Productivity

Lift Selection To Meet Facility Needs

MEWPs: New Name, Renewed Focus on Safety
---
---
---
Related Topics: