You Might Like
On FacilitiesNet
Lift Advances Target Access, Productivity
A new generation of mobile elevating work platforms gives technicians greater access to facilities' hard-to-reach areas
OTHER PARTS OF THIS ARTICLE
Pt. 1:
Lifts: New Heights for Maintenance
Pt. 2: This Page
Pt. 3:
Lift Selection To Meet Facility Needs
Pt. 4:
MEWPs: New Name, Renewed Focus on Safety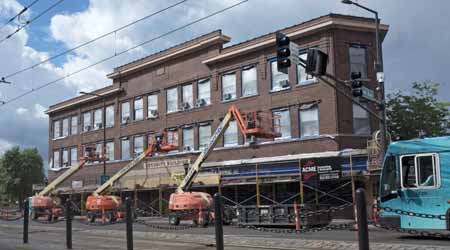 Upgrades to today's telescopic and articulated boom lifts include: boom lifts with an upper segment that telescopes for greater lift positioning accuracy; rough-terrain tires for operating on rough, soft, or uneven ground; the capability to operate on 45 percent grade for a wider range of construction applications; lighter weights for greater fuel efficiency and lower transportation costs; the ability to set up, operate, and move with the operator in the platform, which saves time; and better design reliability for less maintenance downtime.
Scissor lift models with electric drives now have double the battery life. The lifts also are faster and have better grade handling on rough terrain or slopes. They also have fewer parts, which means fewer leak points, and their reserve power means no delays in getting the lift onto a transport at the end of job. Their narrow bases and platforms, as well as low collapsed height, enables access through doors for work in otherwise inaccessible locations.
Advances in controls for these lifts include variable tilt for greater work span on slopes. Visual control panel features show lower maximum height extension on side slopes. Calibration without weights allows adjustment in the field, and easier servicing and intuitive operation combine to lower training needs and operating costs.
Vertical mast lifts are used in applications that include warehouses, stockrooms, transportation, inventory management, and general maintenance. A typical model provides access to work height of 20-36 feet, and a load capacity of 500 pounds and a weight of 2,200 pounds improves their maneuverability.
With a zero-turn radius and jib extension for greater outreach, they offer precise positioning and access to hard-to-reach places in congested areas. Due to the unit's narrow width of 2 1/2 feet and a mast-lowered height of 5 feet, they can move through doorways and onto passenger elevators more easily and require less storage space.
Continue Reading:

Lifts: New Heights for Maintenance

Lift Advances Target Access, Productivity

Lift Selection To Meet Facility Needs

MEWPs: New Name, Renewed Focus on Safety
---
---
---
Related Topics:
Comments