Facility Manager Cost Saving/Best Practice Quick Reads RSS Feed
Drones on Display: Show Explores Technology
July 12, 2017 - Contact FacilitiesNet Editorial Staff »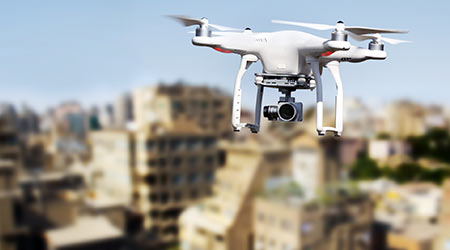 One of the first drones, on loan from the National Model Aviation Museum, in Muncie, Ind., is an ideal Intrepid-based starting point for "Drones: Is the Sky the Limit?," a wide-ranging, fascinating exhibition at the former aircraft carrier, now the Intrepid Sea, Air and Space Museum, according to an article in The New York Times.

The "Drones" show puts the technology in context, providing it with a history and surveying its proliferating uses, both benign and malign. In all shapes and sizes, drones measure hurricane intensity, count penguins, look for structural flaws on oil rigs and deliver lifesaving medicines to remote jungle villages. They have invaded the arts. Eight circular lampshades, each wrapped around a drone, executed a complex aerial choreography in "Paramour," the Cirque du Soleil Broadway show that closed last month.

The drones in the show include dinky racers, small enough to be Christmas stocking stuffers, that goggle-equipped operators steer through obstacle courses in stadiums, abandoned malls or empty factories at speeds of up to 80 m.p.h. The sport is taking off, so to speak. ESPN recently acquired the rights to broadcast races sanctioned by the Drone Racing League. Visitors to the exhibit can get a taste of the action by picking up a remote controller — the kind that comes with a video game — and guiding a small drone through circles and triangles suspended in a net cage.

Read more at: https://www.nytimes.com/2017/05/11/arts/design/drones-kill-yes-but-they-also-rescue-research-and-entertain.html

This Quick Read was submitted by Dan Hounsell, editor-in-chief of Facility Maintenance Decisions, dan.hounsell@tradepressmedia.com. For his insights on using drones in facilities maintenance and engineering, visit https://www.facilitiesnet.com/16438FMD. To learn more about federal regulations on the use of drones, visit https://www.facilitiesnet.com/37882FMD.
---
Comments