You Might Like
On FacilitiesNet
« Back to Facilities Management HVAC Category Home
Better HVAC Performance: 4 Tips for Facility Managers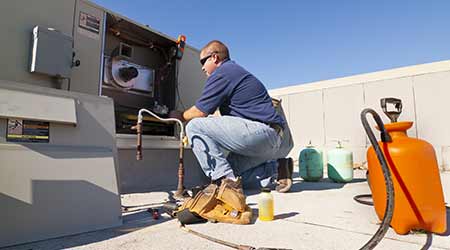 March 28, 2018 - HVAC
By Joseph Leichner
Managing HVAC equipment and systems for commercial buildings can be overwhelming, especially when you are faced with aging systems and surprises found during maintenance. To help you provide the best performance for building occupants, consider these tips the facility managers can use to ensure the building's HVAC equipment and systems can perform for years to come.
1. Asset Management Planning
Unplanned repairs coupled with escalating operations and maintenance costs can cause financial challenges for many buildings. To avoid surprises to the facility O&M budget, take advantage of an asset management assessment, which includes a full evaluation of equipment, including chillers, boilers, pumps, air handling units, and controls. Upon completion of this assessment, you will receive a report that outlines the potential repair needs, maintenance practice recommended changes, and equipment replacement needs for the facility as well as an analysis that will give you insights to drive more accurate budgeting for replacing HVAC equipment for the near future.
2. Annual Maintenance Contract
Extend the life of equipment and reduce operating costs with a maintenance plan that's suited to facility needs. Implementing a proactive approach will keep HVAC equipment and systems running effectively and efficiently. A maintenance agreement can ensure that the facility is covered for the unexpected while also getting the most from the equipment day-to-day. When supported with Building Internet of Things and smart building tools, service teams can also remotely access an HVAC system to identify trends and possible issues, addressing them before they become a serious — and more costly — problem that could affect employee productivity and customer satisfaction.
3. Operator and Technician Training
Proper training is essential to the lifecycle performance of HVAC equipment. Facility managers should evaluate training programs to ensure that they adequately prepare a technician to know what needs to be done to maintain or service commercial HVAC equipment. Look for accreditation by the International Association for Continuing Education and Training (IACET). An accredited training program is authorized to issue the IACET CEU and can provide true factory-training for HVAC service needs.
4. Periodic Energy Audits
The HVAC system is one of a building's largest energy draws — consuming roughly 40 percent of the building's energy expense. If energy is not monitored or managed, it can mean a substantial impact for overall organizational goals and financial profitability; some energy costs can increase overall annual expenses by 20 percent if not controlled carefully. With an energy audit, experts can help find energy conservation measures and spot facility improvements to reduce energy spend. An audit goes beyond the HVAC system to include an evaluation of lighting, occupant usage, and even windows and roofs. The process will provide perspective on potential energy savings and offer rewards in building performance that improves the business' bottom line.
Joseph Leichner, PE, CMVP, is the director of operations for the owner sales team at Daikin Applied, which supplies HVAC system and equipment services for commercial clients.
posted on 3/28/2018