The Benefits of Infrared Imaging
One of the benefits of infrared imaging is the ability to diagnose building and system maintenance issues.
OTHER PARTS OF THIS ARTICLE
Pt. 1:
Infrared Imaging Comes of Age
Pt. 2:
Infrared Imaging: Demonstrating Its Value
Pt. 3: This Page
Pt. 4:
How Infrared Imaging Works
Pt. 5:
Expanding Applications For Infrared Imaging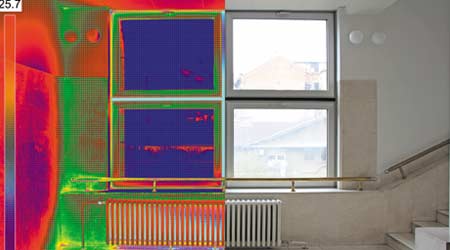 Benefits and limitations
Infrared imaging also is demonstrating its value in diagnosing building and system maintenance issues. For example, images of system pumps and motors can help technicians identify overheating bearings, allowing managers to schedule a maintenance outage rather than have the bearing fail and cause an unscheduled — and potentially costly — outage.
Successfully locating piping behind walls has always been a challenge for maintenance technicians. Thermal scans can help to find hidden piping. While it will not let technicians actually see through the wall, the temperature difference between the piping and the surrounding area will indicate the pipe's location.
Technicians also sometimes have difficulty locating the blockage in building sanitary systems. As a result, they often snake out large portions of the system before they actually find the blockage. If the piping is accessible, they can use thermal imaging to identify the blockage location. Even if the piping is enclosed in a wall or above a ceiling, the thermal image can show the blockage location.
Before committing to purchasing or contracting for infrared imaging, managers need to understand the limitations of the systems. Infrared imaging is not plug-and-play technology. Images can be difficult to interpret, and reflections from other surfaces, as well as different thermal emissive properties of objects being viewed, can affect them.
In addition, thermal imagers can provide information on materials within a wall, but they cannot see through a wall. Since thermal energy can be reflected, it is impossible for the cameras to see through glass or water, which means that rain, fog, and wet surfaces limit the capability of the systems.
The systems require training and practice to ensure effective use. Most system manufacturers offer some form of training with their products. Take advantage of it. And as personnel gain experience with the system, they will not only become more proficient but will also identify a wide range of new applications for it.
James Piper, P.E., is a national facilities consultant based in Bowie, Md. He has more than 30 years of experience with facilities maintenance, engineering and management issues.
Continue Reading:

Diagnostic Technology

Infrared Imaging Comes of Age

Infrared Imaging: Demonstrating Its Value

The Benefits of Infrared Imaging

How Infrared Imaging Works

Expanding Applications For Infrared Imaging
---
---
---
Related Topics:
Comments