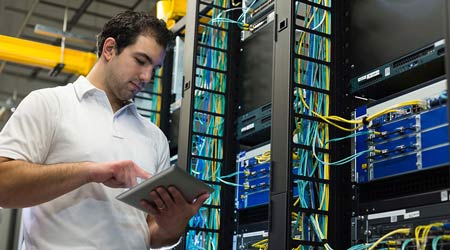 Tablets Lag Behind Laptops for Maintenance Technicians
Part 2 of a 4-part article on mobile technology
Our survey asked managers about the devices they and their technicians use for professional purposes. Both groups rely heavily on the use of smartphones — 82 percent of managers and 68 percent of their technicians use them in the field.
Managers also rely on desktop computers — 74 percent of respondents — and laptops — 68 percent — more than their technicians do. About 45 percent of managers say their technicians use laptops, while merely 5 percent of their technicians use desktop computers.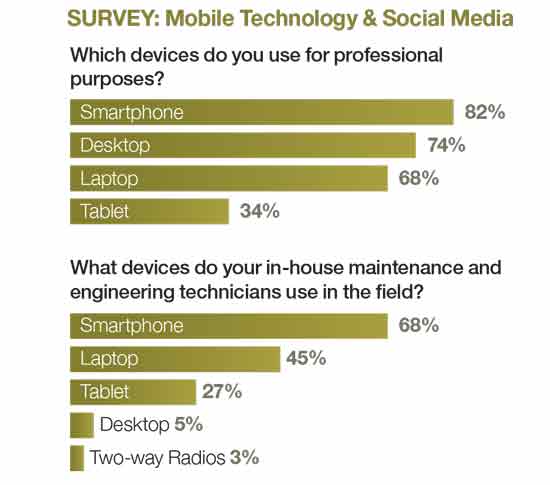 Two mobile devices that appear underused according to the survey are two-way radios — just 3 percent of managers surveyed use them — and tablets.
Only 27 percent of managers say technicians use tablets on the job.
"With the two-way radios, I found that interesting because a lot of school districts use them," DuPlessis says. "A lot of times it's a fit because of cost, but we recently met with a vendor on two-way radios, and the amount of technology they are able to use on those is growing like everything else is. Some of them have apps that you can use to send out radio communication."
DuPlessis expressed similar surprise at the low number of tablets departments use.
"Tablets seem like kind of a good in-between — easy to deploy and use," she says. "You can do pretty much everything you can do on a laptop without the tiny little screen on a phone, so it's a good middle-of-the-road solution."
Continue Reading:

Mobile Technology

SURVEY: Mobile Technology — Exploring the Opportunities

Tablets Lag Behind Laptops for Maintenance Technicians

Survey: Funding Ranks as Toughest Roadblock to Adopting Mobile Technology

What Does Future Hold for Mobile Technology?
---
---
---
Related Topics: