You Might Like
On FacilitiesNet
Smart Inventory Management: Rotating Assets with Fewer Spare Parts
Here's how to do stock and asset management to be sure the right spare part is always available when needed.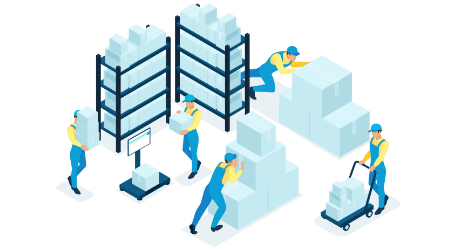 During my 16-year career with the Royal Netherlands Air Force, I learned and experienced that having the right spare parts available or not affects the availability of technical systems. Aircraft stood still at Volkel Air Base due to a shortage of spare parts, while those in nearby Kleine-Brogel in Belgium were in stock. For so-called consumables, I exchanged parts monthly with my Belgian colleagues. As a result, we solved each other's shortages and improved the availability of spare parts and, thus, the deployability of the aircraft.
After my career at the Air Force, I began sharing my knowledge and experience as a consultant at Gordian with service and maintenance managers in various industries. Few managers realize that stock management of spare parts differs enormously from the generally known and available stock management methods and techniques. As a result, many service and maintenance organizations still encounter numerous problems with the timely availability of the correct spare parts, despite high stocks of them.
Spare parts and system availability
The direct relationship between the timely availability of spare parts and system availability — in this example, the deployability of aircraft — becomes clear from the simple numerical examples below. A technical system is up — it works; green in the diagram below — or down — it does not work; red in the diagram below. During the time a system is down, maintenance is carried out, or the system waits for it. That wait time is caused by not having one of the following immediately available: people, resources, methods or materials.
In the normal situation in the picture below, one-half of the down time — 28 percent per year — consists of waiting for materials — 14 percent — and the other one-half of actual maintenance — 14 percent.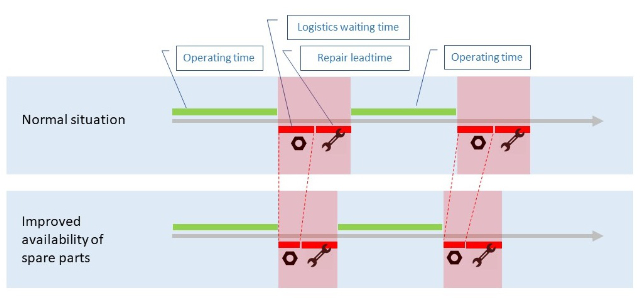 Now imagine we can reduce the wait time by 50 percent through better availability of spare parts. The uptime of the technical system increases by 5 percent from 72 percent to 77 percent.
Stock management strategies
The management of stocks for service and maintenance differs substantially from the well-known and used methods because:
• the demand for spare parts is low and therefore unpredictable
• spare parts are sometimes critical or repairable
• delivery and repair lead times are long and unreliable
• prices can be very high.
Compare the demand for packs of coffee in the supermarket with the demand for any part — petrol pump, starter motor, alternator, etc. — in a car garage:

Standard stock management techniques and systems taught during training and are available in ERP and stock management systems are aimed at items such as coffee. Demand is predictable based on past demand, returns are virtually non-existent, and delivery lead times are stable. Stock for coffee is a trade-off between stock-keeping costs and order costs, given a specific demand. This does not apply to spare parts. That stock decision is based on completely different things. There are many more uncertainties.
Maintenance management systems do not take these characteristics into account. This is resolved by entering manual min and max levels.
Continuous improvement
Before even thinking about interventions, it is necessary to create awareness about the improvement potential. Therefore, always start with a scan, and quantify the improvement potential. As soon as there is realization of a great business case, you continue. Depending on the maturity level of stock management, you implement project-based improvement processes.
One of these is the implementation of a suitable stock management system for spare parts — or service and maintenance. Such a system is based on and includes a fully closed plan-do-check-act cycle, which continuously improves stock management for spare parts.
Jürgen Donders — j.donders@gordian.nl — is a partner with Gordian Logistic Experts, a specialist in service logistics and spare parts management. Donder has been working in logistics/supply chain for more than 25 years. He has detailed knowledge in the field of spare parts and service supply chain management, process management and key performance indicators, as well as procurement strategies.
---
---
---
Related Topics:
Comments