Roundtable: Managers Discuss Technician Training Strategies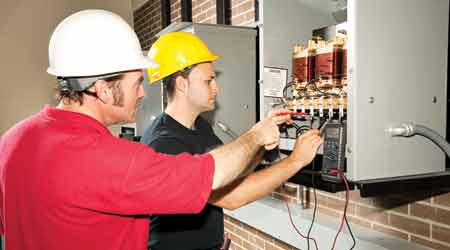 Eric Albright,
Maintenance Manager,
Frito-Lay Facilities,
Plano, Texas
Neal DiChiara,
Director of Facilities Maintenance,
University of Alabama
Bob Wilkinson,
Director of Maintenance and Operations,
Frederick County(Md.) Public Schools
Institutional and commercial facilities evolve, technology marches on, and regulations and standards change regularly. To meet the technician training challenge that these issues create for departments, maintenance and engineering managers discuss their tactics and strategies.
What are the biggest technician training challenges you face as a manager?
DiChiara: Time and money — dedicating the time and securing the funding. In maintenance, emergencies pop up every day, and shutting down for training exposes you to the risk of not being able to respond to an emergency appropriately. It can be tough.
Albright: The biggest issue I have is with coverage training. The technicians all want to be the go-to technician for any event or situation that occurs on a given system. They get to the point that they understand their primary system inside and out and can solve any issue that comes up. The issue is getting the technicians to understand their backup systems just as well.
Wilkinson: For me, the primary challenges are identifying an appropriate scope and solidifying the classroom training with post-training application. In the past, we've initiated training in response to known deficiencies or in response to specific requests from our technicians. Probably the best example I can give is training in variable-frequency drives (VFDs). The problem was, in some cases, it was only after the training when we realized the training was too detailed, and it was difficult for the technicians to absorb everything from theory to troubleshooting and repair.
What building systems and components present the greatest training challenges?
Wilkinson: HVAC (systems are) the biggest challenge because they tend to be the most complicated systems and because minor malfunctions tend to be the most noticeable among our building occupants. We're in education, so we try to maintain the ideal learning environment. Every classroom may not be perfect, but we try to maintain the ability for each classroom to support instruction. The last thing we want to do is interrupt instruction. Building automation systems (BAS) are also very complex and something we've struggled to get training on.
Albright: The walkaround. I'm one who worked my way up through the ranks and am now the manager. I have learned over time, and lots of it, that the sounds of your building, rotating equipment, loaded equipment — it all whispers to you. If you walk through every day with your headset off, you get used to the sounds, smells, shadows, and the intangible items. When something is not operating right, it tells you. You can set your BAS or energy management system (EMS) to tell you that something is occurring before it has an impact, but I have found that in many cases these little things as you walk through the building let you know there is an issue before the alarms on your BAS or EMS systems. Getting the technicians to believe this and really do a walkthrough is the biggest challenge that I face.
DiChiara: Door hardware, whether it's automated or standard. It can get pretty complex. Components, auto-openers, ADA access, sliding doors, rolling doors — they change a lot because of new technology. They're becoming more complex.
Which styles of training do you think are most effective?
DiChiara: I feel like manufacturer-led training has been the best for us in the past, simply because they have all the information and technical expertise about products. They really know their stuff, and they are experts on their products.
Albright: We use third-party (training) on new equipment. Then I rely on staff-to-staff training. The best person to pass on information is the one that has the most knowledge on the equipment. I like the idea of the backup person doing the training, with the primary person supervising the training. That makes the backup person know the equipment thoroughly. But I have not been able to implement that in this location. The primary technician is always responsible for the documentation on the equipment and the backup I like to have as the trainer on the equipment.
Wilkinson: If we can afford the time and the money, the best thing to do is to send them away to a training location because there are minimal distractions. Typically, that third party has a situation like a lab set up where (technicians) can actually get hands-on experience. When they do training in a classroom, they can't get hands-on experience. When they do the training at our site, they can only do a limited manipulation of the equipment but at the manufacturer's site or a third-party site, they can play with something without the fear of damaging it. We've also gotten a lot of dividends from having architectural engineers come in to do training. There's sort of an inherent skepticism between technicians and architectural engineers, but once the architectural designer comes in and explains why their design is the way it is and establishes their credibility, our guys really soak up that information. We've also had a lot of success in post-construction training, where the engineer will come in and tell our people 'this is how the system operates,' In peer-to-peer training we've had tradesmen who are aspiring leaders to coordinate and conduct training. It's good because in our area we have eight different teams distributed throughout the geographical area of our county. They don't get to interact a lot, so when I get the electricians and plumbers together, they get more familiar with one another and they can share ideas across the trades. In the education system we hear about different studies mixing the generations, putting baby boomers with millennials, and peer-to-peer training lets us leverage a dynamic that otherwise we wouldn't be able to do.
How have continuing changes in building technologies impacted your approach to training?
Wilkinson: I feel like we need more and more training, and we need specialization because there are systems like fire alarms and automation systems that I really can't expect all of my technicians to understand. I may not expect all my electricians to understand, but I need to designate certain people and get them training on that specific system. For some of them, it's so detailed they have to specialize, and if they don't deal with it on a regular basis, they're going to forget it. I'd rather have one guy really good at fire alarms and who does nothing but fire alarms, rather than try to have 14 electricians try and operate the fire alarms.
Albright: I find that the continuing changes affect the alarms and control side of the house more than technicians. Facilities will always be a reactive group. But it is management's responsibility with the technology changes to keep making the reactive side of our daily job less the norm. The technology lets us know that there is an issue arising with a piece of equipment, at which point we go into an event-based preventive response instead of a failure-reactive response. Technologies can go too far, as well. Just because you can control to the point of a pin does not mean that you have to, and it definitely does not mean that you alarm to that level. As control gets tighter and tighter, we need to keep in mind what we need to maintain. Controlling an office to one-tenth of a degree is not needed or energy efficient, but then 2-degree swings in temperature are not good either.
How receptive do you feel top facility executives are to technician training?
DiChiara: My bosses are extremely receptive. They are both retired military, and training is a way of life for them. They understand the value of it and are proponents of getting a more formal training program established. Across the board, all universities want the same thing. Whether they get to do it, I really don't know. The big universities that I come into contact with are trying their best to do it.
Wilkinson: In our case, we've enjoyed an implied appreciation. No group that focuses on education is going to put down training and education. We've really benefited from top leadership that has supported professional development in all forms, but it can change from leader to leader. We've had some who've said, "Just do it. There's benefit in any form of training." We've had others who've said, "I want training to be more targeted." You can't just hold training under the banner of professional development and expect good things to come out of it. It's more about the individual as to what they can expect and what they demand before they launch into some training effort.
Maintenance and engineering departments routinely struggle with front-line technician training. From financing and technology to content and time commitments, training creates challenges for managers who know they must address the issue while staying focused on their departments' core responsibility — building maintenance.
For Duke Realty, a commercial real estate management firm based in Alexandria, Va., the list of challenges includes a workforce with varied experience and skill levels. The department's solution was to implement comprehensive technician training based on a thorough review of the organization's resources and needs.
Thomas Nettle Sr., the company's senior operations manager, says the process provided valuable lessons that managers facing similar challenges can incorporate into their planning:
• You do not know what your staff knowledge level truly is until you vet it.
• You cannot fairly or sensibly achieve your goals, company requests and requirements if your staff does not understand what is expected of them and unless you know what they are capable of.
• You learn what staff changes you have to make, and you can evaluate how best to place your staff.
• You get a clear picture of what your staffing needs are.
• You learn the true value of each staff member.
• Your team becomes stronger and more reliable.
For the complete text of this article, visit facilitiesnet.com/14860FMD
— Dan Hounsell
---
---
---
Related Topics:
Comments