Keeping Critical Components Active During Health Care Renovations
HVAC lies at the heart of any health care facility, managers need to keep critical areas of the facility working during renovations.
OTHER PARTS OF THIS ARTICLE
Pt. 1:
Upgrading the Status of Health Care Facilities
Pt. 2:
Working Around Project Delays in Health Care Renovations
Pt. 3: This Page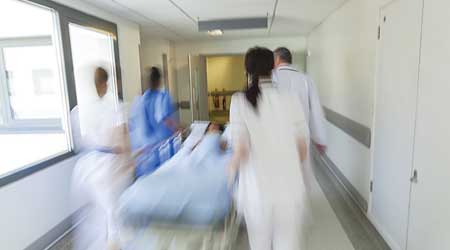 System specifics
HVAC systems are the heart of the critical areas of any health care facility. Without proper airflow, room pressurization and air changes are not achievable. Without proper heating or cooling, space temperature and humidity requirements will go unmet.
The survey mentioned earlier should include a review of the base building equipment. This survey can identify the system operation and performance data, such as fan speed and airflow rate, the flow rate of hydronic pumps, system differential pressures, temperature and pressure set points.
In addition to data on the performance of existing equipment, managers can provide a preventive maintenance schedule, which will allow the construction team to plan for such tasks as tieing into an existing air distribution system while a system is offline or completing balancing after a new set of filters and belts is installed.
Control upgrades are a common part of renovations, but some projects might include this work without managers truly knowing the conditions of the equipment. For example, on a variable air volume unit, changing the pneumatic controls to direct digital controls will provide better control of the damper and associated reheats. But without access doors, managers do not know if the damper is fully closing and opening.
The damper seal might be defective, and the face of the damper might be full of dirt and debris. Steam cleaning of the reheat coils, vacuuming the dampers, and regreasing the shafts can go a long way to extending the performance of the newly installed controls and can extend the life of the equipment.
Many renovations also involve domestic water and medical gas systems, which are required as part of patient care. Challenges that managers can expect include patients and staff who are not able to use the plumbing fixtures — sinks, toilets and showers — when systems are drained down to complete a tie in.
Coordination of the renovation with the floor nurses is crucial for a successful shutdown. To mitigate this issue, teams can use a schedule so nurses can relocate patients to areas that are not affected by the shutdown. This step is required when performing work on a live medical gas system that is keeping patients alive or is being used during a procedure or operation. Blocking patient rooms also can allow for the installation of sanitary piping on floors above.
In addition to the above examples, requiring a method of procedure (MOP) from the trades can help the project proceed more smoothly. Using an MOP, managers and other involved parties can be aware of the steps required for the renovation work to be performed. A sign-off sheet ensures the acknowledgement of all associated staff, including end users.
Patient care must be at the forefront when planning and executing any renovations and upgrades in health care facilities. A successful project is a testament to a collaborative team effort between the end users, facilities staff, and design and construction teams.
Estefany Andino-Mendez, CCP, LEED AP BD+C, is a senior project engineer with Horizon Engineering Associates — www.horizon-engineering.com — in New York, NY. C.J. Peter and Anthony Grgas are project engineers with the firm.
Continue Reading:

Renovations

Upgrading the Status of Health Care Facilities

Working Around Project Delays in Health Care Renovations

Keeping Critical Components Active During Health Care Renovations
---
---
---
Related Topics:
Comments