Inside Baseball: Maintenance at an MLB Stadium is a Year-Round Job
Milwaukee Brewers' maintenance staff relies on a fleet of MEWPs to keep American Family Field in big-league shape.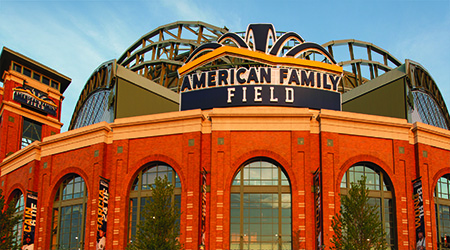 Milwaukee Brewers' maintenance staff relies on a fleet of MEWPs to keep American Family Field in big-league shape./DECK-->
Major League Baseball's off-season started when the players went home and fans left stadiums for the last time in early October. But there is no off-season for Mike Brockman and his team.
Brockman is the senior director of facility services for the Milwaukee Brewers, a role he has held for three years. He has been part of the organization for 24 years — since before the opening of the team's stadium, American Family Field. Though Brockman's duties and priorities change when each season ends, the department's workload never really slows down.
"My favorite time inside the stadium is when it's quiet and we can actually access some of the stuff above your head or the walls and whatever is behind closed doors," Brockman says. "It all needs to be maintained to keep the facility up and running and comfortable and safe."
As Brockman's maintenance team moves into off-season mode, many of the projects at American Family Field require using mobile elevated work platforms (MEWPs) for completion.
Fleet and staffing
Maintenance in and around a Major League Baseball stadium requires much more work than ensuring the playing field is in top-notch conditions and that dugouts and clubhouses are clean and safe.
Seating areas and walkways must stay safe for the thousands of fans who walk through the turnstiles more than 80 times a year. The plumbing system needs to be efficient and reliable. HVAC systems must continue working properly. And lights around the stadium and parking lots must stay on. Brockman's team never lacks for tasks.
American Family Field sits on 265 acres on the West side of Milwaukee. The facility includes 240 acres of parking lots and two additional structures — a little league park and an area for fans to gather for pregame parties.
The stadium contains 1.2 million square feet with a seating capacity of 41,900. American Family Field also includes two restaurants, gift shops, luxury suites, 38 concession stands, 66 restrooms, and 392 sports light fixtures.
Brockman's facilities team maintains the property with 12 full-time employees year round and an extra electrician during the baseball season so the facility has at least one on hand during regular business hours and another during games.
Staffing needs differ depending on the time of year at the stadium. During the off-season, all 12 employees work a regular 9-to-5 shift. In season, the team is split — one-half works a regular shift, and the other is on site during the game.
"The game-shift crew is basically reacting to anything that may go wrong or needs attention or gets damaged," Brockman says. "During the off-season, the whole crew is working first-shift duties and just going after maintenance and repairs."
The stadium's MEWP fleet consists of four scissor lifts and one boom lift that can reach up to 85 feet. With American Family Field's retractable roof 330 feet over the playing field and seats – roughly the distance from home plate to the right-field foul pole – Brockman's team rents equipment to address issues that are out of reach of the maintenance team.
"We'll rent boom lifts to get to the 125 foot range, but that doesn't nearly come close to reaching the roof itself," Brockman says. "So for the most part, all of the work that's done on the retractable roof and other higher areas around the field is done with a crane."
Heavy duty for lifts
The list of maintenance responsibilities is long for a facility that typically sees up to 3 million fans every season. The team's heavy use of the MEWPs reflects that workload.
"They are used basically every day for us," Brockman says of the scissor lifts. "They really replaced the need for stepladders and extension ladders just because they're so much safer, and quite honestly, you can have your workspace right there. You can have some equipment or material there when you go up in a scissor lift as opposed to walking up and down a stepladder."
The maintenance team uses scissor lifts range of duties, from accessing HVAC equipment and the electrical system to replacing lightbulbs and painting.
The boom lift is typically deployed for on-field tasks, such as repairing the nets that extend from behind home plate down the right- and left-field lines to protect fans. It can also help workers reach areas beyond the outfield or replace windows inside and outside of the stadium.
While the scissor lifts typically stay inside the stadium, workers use the boom lift all over the property. They are used to replace or repair parking lots lights and maintain light towers or the outside areas of the stadium.
All of Brockman's staff typically uses the scissor lifts at least once a week. The staff members also need to know how to safely operate the 85-foot boom lift.
"Maneuvering that thing around and getting it where it needs to be, it's a little bit of a different beast," he says.
Since keeping the MEWPs in working condition is important because of their heavy workload, the Brewers contract with a third party to come on-site to do most routine repairs and maintenance.
"The lifts are pretty reliable," Brockman says. "I'm trying to think of the last time we had to send one back for repairs. Occasionally, they'll need something that needs some repair, but it's usually done on-site. Since we use our scissors lifts inside the building, they're protected from the weather. Some of them are at least 10 years old."
Seasonal duties
While in-season maintenance duties around American Family Field are limited because of all the activity taking place from April to October, the off-season is the time to tackle many larger and more complex projects.
As the temperatures drop in Milwaukee, one of the more important duties at the stadium is shutting down plumbing and piping systems in parts of the stadium that sit unused during the off-season.
Turning off certain sections of the plumbing system is a six-week process and requires the use of scissor lifts to reach many of the valves.
"A few months later, we turn it all back on," Brockman says. "We do it every year. We try to turn it on as late as possible because in March. It can still get below freezing. But by March, we have a lot of the building turned back on."
The 2021 baseball season ended months ago, but for Brockman's team, preparations for 2022 Opening Day are already under way.
"We kind of take note of what's damaged or worn out from the season from all the fans that we've had in the building," Brockman says. "From (November) until when it gets too cold, we will be painting, cleaning, and repairing, doing whatever we can do now because obviously when we open in April for Opening Day, we want it to be as pristine as possible."
Dave Lubach is managing editor for the facility market. He has six years of experience writing about facility management issues.
---
---
---
Related Topics:
Comments