Expanding Applications For Infrared Imaging
As infrared imaging becomes more accessible and less expensive for managers, the practical uses for it within facilities is on the rise.
OTHER PARTS OF THIS ARTICLE
Pt. 1:
Infrared Imaging Comes of Age
Pt. 2:
Infrared Imaging: Demonstrating Its Value
Pt. 3:
The Benefits of Infrared Imaging
Pt. 4:
How Infrared Imaging Works
Pt. 5: This Page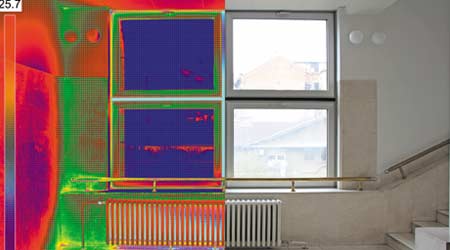 Infrared imaging becomes less expensive and more accessible to maintenance and engineering departments, managers are looking for more opportunities to use the technology to benefit their facilities beyond traditional applications.
Consider the case of unwanted animals, such as mice, rats, or possums, who have taken up residence in a building. They can be difficult to get rid of, and they can cause damage to building insulation, wiring, and other components. Nests can be difficult to locate.
Animals have heat signatures, and the nests they build and the damage they do alter the thermal images of walls and attics. Infrared images can help technicians find the animals, their nests and the damage they might have caused.
Some thermal imaging cameras are small enough that technicians can attach them to drones for surveying hard-to-reach locations, such as high, pitched roofs. Their low battery draw typically outlasts the drones batteries.
Thermal imaging also is useful in inspecting new construction. It can identify exterior walls that were not properly insulated, and a complete examination of a roof can reveal areas that were poorly installed or already might be leaking. Ductwork leaks also can show up on infrared images, as can HVAC equipment that is overheating due to improper alignment or other issues.
— James Piper, P.E.
Continue Reading:

Diagnostic Technology

Infrared Imaging Comes of Age

Infrared Imaging: Demonstrating Its Value

The Benefits of Infrared Imaging

How Infrared Imaging Works

Expanding Applications For Infrared Imaging
---
---
---
Related Topics:
Comments