You Might Like
On FacilitiesNet
Building a 21st Century Power Tools Arsenal
Part 1 of a 4-part article on power tools
OTHER PARTS OF THIS ARTICLE
Pt. 1: This Page
Pt. 2:
Ergonomics Emerges as Important Power Tool Consideration
Pt. 3:
New-Generation Power Tools Improve Efficiency, Lower Cost of Operation
Pt. 4:
SIDEBAR: Tool Check — Inspection and Maintenance Tips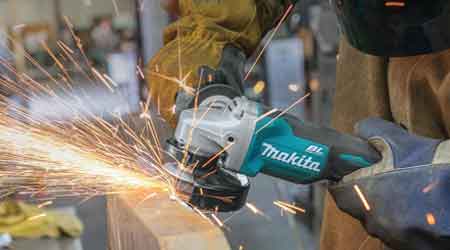 Maintenance and engineering departments continue to rely on an arsenal of power tools, from reciprocating saws and drill drivers to impact drivers and hammers, to perform daily tasks. In turn, manufacturers continue to introduce new and upgraded tools designed to meet the growing demands from technicians for performance and from managers for long-term performance.
By understanding advances in power tools, features, and materials, managers upgrading their departments' power tool arsenal will be in a position to make smarter specification that meet their demands and those of front-line technicians.
Batteries in the spotlight
Two popular types of power tool batteries — nickel cadmium (NiCd) and nickel metal hydride (NiMH) are less expensive but harder to find now, since lithium-ion (LI) batteries have begun to dominate the market. The latest generation of LI batteries feature the added advantages of lighter weight and longer runtime between battery charges.
They do not self-discharge, so they retain longer shelf lives. Users will spend more than $22 billion dollars on lithium — primary and non-rechargeable — and LI — secondary and rechargeable — batteries in 2016, according to industry estimates, doubling the 2012 figure in just four years. This trend will certainly bring costs down further and increase their dominance.
Managers will find it beneficial to learn about LI technology in order to take advantage of this new technology. Like all batteries, LI batteries have a negative and positive electrode and an electrolyte that transfers ions back and forth during charging and discharging. What makes them different is the chemical elements and compounds involved.
Some manufacturers' products allow interchanging worn out NiCd or NiMH cells with LI cells in the same power tool battery pack housing, as long as the same voltage is used, for a fraction of the cost of buying an LI battery pack. Technicians must be careful to avoid mixing cell types, which could result in uneven charging, overheating, and fire or explosion. Since the power tool motor will outlast the batteries, transferring to LI batteries is a good strategy for replacing NiCd or NiMH batteries as they wear out.
Also, today's chargers have screen settings for battery type — selectable choices that allow switching from another type to LI with the same charger. They also have balance features, so over time all the cells in the pack will charge evenly and stay in synch for longer life.
Continue Reading:

Power Tools

Building a 21st Century Power Tools Arsenal

Ergonomics Emerges as Important Power Tool Consideration

New-Generation Power Tools Improve Efficiency, Lower Cost of Operation

SIDEBAR: Tool Check — Inspection and Maintenance Tips
---
---
---
Related Topics:
Comments