Challenges and Costs Associated with Drone Technology
Part three of a three-part article on drone commercial drones
OTHER PARTS OF THIS ARTICLE
Pt. 1:
Commercial Drones Give Managers Eyes in the Sky
Pt. 2:
Managers Strive to Learn Benefits of Drone Technology
Pt. 3: This Page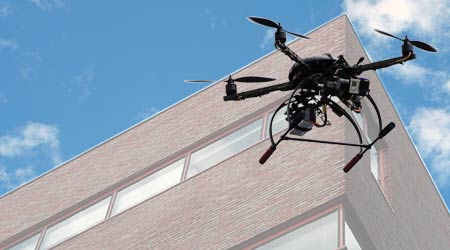 The other side of the cost-benefit analysis managers need to conduct in researching commercial drone use for their facilities is understanding the technology's accompanying challenges and costs.
The hottest of the hot-button issues related to commercial drones involves changes in regulations, from both the FAA and local jurisdictions, regarding their use. For a discussion of the regulatory issues surrounding commercial drone use, see the accompanying article.
While the cost to bring in a commercial drone certainly will come down as the technology evolves and providers learn how to offer the services at more affordable prices, managers nonetheless need to understand the financial commitment involved.
"Just to launch a drone is $1,000 minimum," Dennison says. "So if you're not into spending more than $1,000 to inspect your roof, you're out of the picture. For some of the other services, like infrared or measurements, those are $1,500 bare minimum."
Beyond cost considerations, managers need to understand that in the broadest sense, they are entering a different field when using a drone.
"People don't realize that when they fly a drone, they are entering the aviation industry," Dennison says. "The flight path of the drone needs to be well thought out, and records need to be on site. You need two people operating that drone at all times."
Then there are the technical considerations
"You also need to understand the sensor," Dennison says. "You need to understand the available light and the cloud cover so you can collect the best imagery possible. You need to understand what you're taking a picture of. For example, is it a white roof or a black roof? The settings and the height you fly at in each case are very different."
While managers might be tempted to focus their efforts on understanding all they can about commercial drones and their operation, Petermann says managers also must be aware of all of the conditions in the area where the drone flight will take place.
"Challenges to drone services beyond regulations include weather conditions and the strength and clarity of GPS signals," he says. "Weather conditions need to be closely monitored prior to flight. Rain is one reason to postpone flight, but wind can also be a factor. We also experienced interference with compass readings and signals when flying close to large metal objects. Test flights to confirm the accuracy of positioning and readings should be done prior to launching a survey."
Awareness of the environment in which a drone flight takes place extends to occupants of the facility, who need to be aware ahead of time that the flight will take place at a specific time and in a specific area of the building.
"When it comes to facilities like universities and hospitals, you have to pay attention to privacy issues," Kosnik says. "Drones are funny-looking, and by the virtue of their appearance, they make some people uncomfortable. The prospect of having a camera looking into my hospital room while I'm walking around in one of those ridiculous gowns is really disconcerting.
"So the owner or manager and the drone provider have to coordinate carefully to make sure that everyone using the building is not disturbed and that any rules or best practices reflect good, neighborly practices."
Continue Reading:

Maintenance and Operations

Commercial Drones Give Managers Eyes in the Sky

Managers Strive to Learn Benefits of Drone Technology

Challenges and Costs Associated with Drone Technology
---
---
---
Related Topics:
Comments