You Might Like
On FacilitiesNet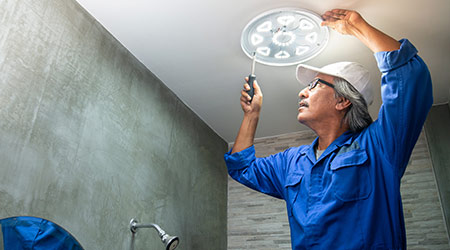 LED Upgrades Target City Buildings
While maintenance and engineering managers can implement an array of energy-savings upgrades in commercial or institutional facilities, one of the most effective and popular upgrades involves LED technology.

The city of Kingston, N.Y., understand the appeal of LEDs, as it will spend up to $130,000 to outfit 11 of its buildings with LED lighting indoors. The city's common council unanimously adopted a resolution recently to spend $130,000 on the energy-efficiency project, which will replace indoor lighting with new, energy-efficient LED bulbs, according to The Daily Freeman.
Mayor Steve Noble says the annual savings at today's electric rates would be $50,551.44 per year.

The payback on the project would be 2 1/2 years, says Julie Noble, the city's environmental education and sustainability coordinator, adding that the retrofits would be done in a two- to three-month period after the funding for the project is approved.

The project would be a one-for-one, in-kind replacement of the existing bulbs with LEDs. The buildings that will be retrofitted through the project include a community center, the Kingston Visitor Center, a transfer station, city court, the city police department, a wastewater treatment plant and the Department of Public Works buildings, as well as fire stations.
This Quick Read was submitted by Ryan Berlin, managing editor of Facility Maintenance Decisions.
---