« Back to Facilities Management Lighting Category Home
New Standards for Fluorescent Lamps: Impact on FMs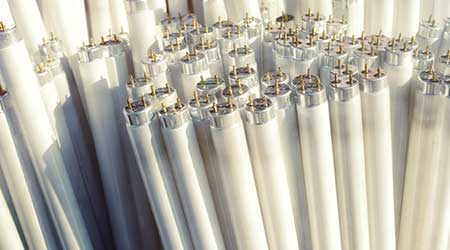 May 7, 2018 - Lighting
By Elaine Miller
Times are changing for the fluorescent lamp, due in part to new federal standards from the U.S. Department of Energy (DOE). All General Service Fluorescent Lamps (GSFL) manufactured after Jan. 26, 2018, need to meet increased efficacy standards — but what does this mean for building owners and facility managers?
The change is primarily aimed at lamp manufacturers. They are now required to produce fluorescent lamps that meet increased efficacy standards, or lumens per watt output. The standards intend to encourage the adoption of high-efficiency lighting products. Fluorescent lamps with higher wattages that require more energy to operate will have greater difficulty meeting the requirements.
What Does This Mean for Commercial Buildings?
The update will have the most significant impact on 32-watt fluorescent T8 lamp sales in the United States. While these aren't new products, fluorescent lamps still have the strongest foothold in the commercial lighting market. An estimated 112 million 32-watt T8 lamps were sold in the United States in 2017, and 70 percent of these are non-compliant and are no longer manufactured, according to data collected by the DOE and the Northwest Energy Efficiency Alliance.
If your building utilizes fluorescent lamps, now is the time to assess your default lamp replacement product. While some non-compliant lamps manufactured before Jan. 26, 2018, may still be on the market, you'll have to make a switch down the line if you use 32-watt T8 lamps. Now is a prime opportunity to switch to lamps that will not only help you cut energy and maintenance costs, but also comply with the new standards.
What Are the Options?
These new federal standards don't impact LED lamps, so building owners and facility managers ready to make the jump can circumvent these changes and achieve significant energy savings by installing LEDs. (Click here for advice on how to choose the best LED retrofit option.)
For those not ready to make the switch to LEDs, low-wattage 28- and 25-watt T8 lamps represent the simplest path to compliance. Not only do nearly all of these lamps comply with the new standards, they're comparably priced to 32-watt lamps and cut costs in the form of energy savings and reduced maintenance while providing similar light quality. In the wake of these new standards, many lamp manufacturers, including Philips and GE, and distributors such as Rexel's Platt and Graybar, are promoting low-wattage lamps as a compliance solution.
For more information on low-wattage T8 lamps, visit http://www.betterbricks.com/LWT8. You can also visit the DOE website to learn more about the new federal standards.
Elaine Miller is a senior initiative manager, responsible for commercial lighting initiatives, at the Northwest Energy Efficiency Alliance, a non-profit alliance of more than 140 Northwest utilities and energy efficiency organizations working on behalf of more than 13 million energy consumers. For more information, visit www.neea.org.
posted on 5/7/2018