Win-Win Outdoor Lighting for People and Environment
The Design Lights Consortium is working on standards and specifications for outdoor lighting that both protects the night sky and saves electricity.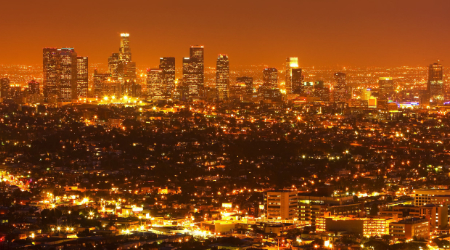 The business landscape has changed. Adhering to the principle of the "triple bottom line," companies of all kinds are looking at not just financial profit, but also benefits to people and the planet when measuring their success. Factors such as investment in environmental sustainability, wellness and consideration of employee workplace satisfaction are no longer just "nice to have." Increasingly, these attributes matter in terms of corporate standing, reputation, and employee recruitment and retention.
"Sustainability reporting for large public companies around the world has become the norm," reported Harvard Law School's Forum on Corporate Governance, citing factors ranging from the rise of the Internet to scientific consensus around climate change for having "increased expectations from a wide range of corporate stakeholders – consumers, investors and regulators – about the role businesses should play in society and how they should make positive contributions." While only a handful of companies issued sustainability reports in the 1980s, the Sustainable Investments Institute noted that 78 percent of S & P 500 firms did so in 2018.
Because the physical spaces where companies conduct business are related to this trend, it is not surprising that the green building market is growing exponentially. The number of LEED certified buildings in the US increased from 296 projects to 67,200 between 2006 and 2018.
Among the many aspects of a building project eligible for points toward LEED certification is light pollution reduction, with certification requirements intended "to increase night sky access, improve nighttime visibility and reduce the consequences of development for wildlife and people." Similarly, consideration of artificial light at night counts toward the WELL Building Institute's science-based certification of spaces and communities that advance health and wellbeing. Both the WELL Building Institute's Building and Community Standards award points to projects that mitigate nighttime light pollution, with the organization maintaining that lighting "should be planned to maximize benefits and to reduce light pollution, light trespass and adverse health outcomes."
With research showing 2.2 percent annual growth in artificially-lit outdoor areas worldwide, many US states and municipalities have adopted laws and ordinances to reduce light pollution – adding impetus to efforts to mitigate the impact of artificial illumination from office complexes, shopping malls, and other commercial and industrial facilities. Most recently, on May 21, Nevada Governor Steve Sisolak signed a bill into law to protect and enhance dark skies through locally led efforts. Championed by the Nevada Division of Outdoor Recreation, the bill promotes lighting practices and other methods to preserve natural dark skies, while advancing a sustainable outdoor recreation economy, supporting public health, and protecting the natural environment.
While outdoor lights at night provide clear benefits in the form of better safety and navigation, claims of harm connected with artificial brightening of the night sky abound, from disrupting human sleep patterns and disorienting migratory birds to hindering astronomical research and wasting electricity.
To this latter point, data from the International Dark Sky Association (IDA) indicates that a third of all outdoor lighting in the US is wasted – largely by unshielded fixtures that allow light to spill where it's not needed, costing facility owners some $3.3 billion annually. And, the IDA points out, because wasted illumination derives from wasted energy generation, it is also responsible for 21 million tons of carbon emissions annually, making light pollution a factor in the international climate conversation.
Meanwhile, there is growing evidence that artificial light at night has a negative impact on people, as well. A study by the Sleep Research Society, for example, found that "outdoor nighttime lights clearly impact human sleep and have consequences also on the daytime functioning of human beings" – a factor likely important to businesses that value a rested and well-functioning workforce.
Against this multi-layered backdrop, the DesignLights Consortium (DLC) recently released the initial draft of new solid-state (i.e., LED) lighting specifications for stakeholder comment. The specification builds on DLC's energy efficiency, quality and controllability thresholds to identify and promote outdoor lighting that is both energy efficient and shields the night sky from light pollution. Once implemented, these new product specifications will allow cities and towns, commercial energy efficiency programs, facility managers, lighting specifiers, and others to easily identify and select outdoor lighting products designed to maximize energy savings while mitigating three main categories of light pollution:
Sky Glow – the cumulative scattering effect of artificial light sources that brighten the night sky;

Light Trespass – the effect of light spilling into locations where it is not wanted or needed; and

Short Wavelength – blue-violet (i.e., cool) light that brightens the sky more and can be perceived by humans and wildlife as harsher than warm, longer wavelength (red-amber) light. 

Expected to go through a second comment round before taking effect late this year, these draft technical requirements will allow users of the DLC's Solid-State Lighting Qualified Products List (QPL) to easily identify products that are designed to minimize light pollution. The proposed specifications are intended to help city officials, building owners, energy services companies, lighting contractors and/or specifiers make well-informed product selection decisions when it comes to converting outdoor lighting systems. They will also highlight products with dark sky mitigating features for the scores of electric utility energy efficiency programs across North America that use the QPL as the basis for commercial lighting product incentives.
The DLC is developing the technical requirements with assistance from an advisory group comprising experts in the fields of lighting and science, as well as IDA and the National Park Service. Overall, the proposed technical requirements aim to capture principles for good outdoor lighting embraced by the IDA and the Illuminating Engineering Society of North America. Such guidelines recommend that outdoor artificial lighting:
Be installed only when and where there is a clear purpose (i.e., be useful);

Be targeted – directing the light beam downward so that it does not spill beyond where it is needed;

Be no brighter than necessary;

Be controlled with timers, motion detectors and other technology that assures lights can be dimmed when possible and turned off when not needed; and

Use warmer color lights, limiting shorter (blue-violet) wavelengths that have been shown to contribute most to light pollution.

Specifically, the DLC's draft requirements will establish performance specifications and best practices that:
Set thresholds for light distribution, spectral characteristics and dimming control that decrease light scattered into the atmosphere to reduce sky glow and light trespass and enable more controlled illumination; 

Ensure efficient use of lighting energy through additional dimming requirements to help facility owners reduce operational costs and energy efficiency programs meet savings goals; and

Enable lighting practitioners to select "Dark Sky" luminaires that deliver appropriate visibility for people while minimizing light pollution across a variety of outdoor settings such as pedestrian pathways, parking lots, public parks, city plazas, and university campuses.

While the development of standards and best practices is a critical component to expanding the market for light pollution mitigating LED products, there are other factors. Facility owners and managers considering a shift from traditional outdoor lighting may, understandably, have concerns about upfront costs. As is the case with other efficient lighting solutions, long-term benefits must be factored into this cost equation. "Effective and efficient outdoor lighting solutions are not always the least expensive option," points out the Rutgers Center for Green Building's Green Building Manual, "but, as with any comprehensive cost evaluation, operating costs, including energy savings, lifetime performance and maintenance, are essential factors to consider."
As lighting project designers, architects and facility owners and managers weigh the economic pros and cons of transitioning to more dark sky friendly lighting, it may be helpful to put this decision-making in context. Published in 2016, the World Atlas of Artificial Night Sky Brightness shows that over 80 percent of people worldwide – and 99 percent of Americans and Europeans – live under sky glow, representing "a profound alteration of a fundamental human experience—the opportunity for each person to view and ponder the night sky."
In line with scientific research showing the detrimental impact of unshielded, excessive and poorly designed outdoor lighting on people and the environment, the DLC is excited to delve into a new area that will facilitate the selection of efficient lighting products designed to preserve the night sky while still providing adequate illumination for human safety and activity.
For more information on this effort, including the opportunity to view and comment on the next iteration of our Draft Technical Requirements for Light Usage at Night Applications, please visit the DLC's site.
Christina Halfpenny is executive director and CEO of the DesignLights Consortium.
---
---
---
Related Topics:
Comments