Strategies to Ensure Emergency Lighting Performance and Compliance
Knowledge of codes and standards and an effective documentation plan can help pass required inspections.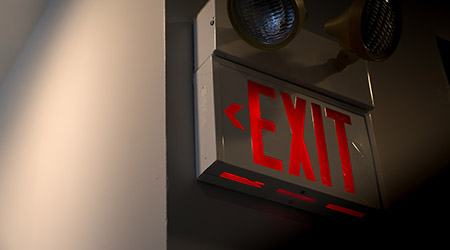 Emergency lighting systems in institutional and commercial facilities can feel like an offensive line or a kicker in football. Their impact isn't often realized until something goes wrong.
With so many duties on their plates, maintenance and engineering managers can fall victim to the same line of thinking. The reality is a neglected emergency lighting system can result in injuries or even deaths of occupants and visitors during an outage.
By adhering to local and national code standards, training technicians on how the systems operate, and keeping up to date on required inspections by local authorities, managers can keep their facilities safe.
Know the codes
The term emergency lighting system invokes thoughts of hurricanes and other natural disasters that knock out power in facilities for an extended period. That perception is typically not the case.
"Probably the most common use of the emergency lighting system is when you may have a typical power outage that's not a major emergency in the building. It's just that the utility happens to lose power and the lights go out," says Stacy Carr, electric engineer for design, Stantec. "That's when the emergency system should kick on. You know you have a good emergency system if things are well lit and it comes on quickly, which is a code requirement, and you know the main pathways to be able to exit the building are lit."
Code requirements differ from region to state and are frequently updated, so it is incumbent upon managers to ensure that frontline technicians stay updated on code changes.
Two of the more critical code components that managers and technicians need to understand related to emergency lighting systems are the National Electrical Code (NEC) 2020, Article 700, and the National Fire Protection Association (NFPA) 101, the Life Safety Code.
NEC 2020 covers the installation, operation, and maintenance of emergency systems. Emergency lighting systems fall under Article 700's requirement as a "system legally required and classed as emergency by municipal, state, federal, or other codes, or by any governmental agency having jurisdiction (AHJ)."
NFPA 101 covers buildings and addresses fire protection and emergency communications, among other life safety concerns.
"Understanding the requirements is obviously very important, because the system has to be in compliance with all applicable codes and standards," says Richard Vedvik, senior electrical engineer at IMEG Corp. "The first step of course is reaching out to the AHJ, and that's going to be the state depending on if it's a big city, or whether it's very rural, but that question can vary quite greatly."
Since codes and standards can change depending on location and type of facility, it is important that managers ensure technicians stay updated. Vedvik suggests managers use the internet to make that happen.
"Articles provide an excellent resource for most people to get a quick 5- to 10-minute read," he says. "We don't necessarily take all articles at face value, but a good article is going to reference specific code sections. Articles are a great way for people to start, but you do have to understand which specific years are being applied. There are times when multiple years of multiple codes are essentially simultaneously applicable."
Where does the lighting go?
One of the more common myths surrounding emergency lighting is that systems are required in every room inside an institutional or commercial facility.
"For instance, single occupancy rooms like offices or storage or even restrooms, (emergency lighting) isn't required,' says Beth Crutchfield, electrical principal with RMF Engineering. "As an engineer, I always recommend that if a room has moving parts, like electrical or mechanical, that you provide emergency lighting because it could be a dangerous place when the lights go out."
Restrooms, for example, are an area that isn't required by code to have emergency lighting, but it is the perfect example of an area that Crutchfield recommends installing it.
"They get very dark when the lights go out," she says. "I recommend restrooms even though they aren't code required. The only other places beside egress lighting where it is code required are rooms that have 50 or more occupants, like conference rooms."
Occupancy typically determines what areas inside a facility need emergency lighting systems. Entryways and exits of the building also require emergency lighting. Generally, the larger the space, the more lighting is needed.
"Say I have a small second story, where I have about 20 offices, and they are usually occupied at random parts of the day, and I have a single hallway or single stairwell that exits from there," Vedvik says. "That's a limited number of people and an example of a single path, or you might have an auditorium with 900 people who can be in it simultaneously.
"In an emergency, I have to evacuate 900 people, so they're going to have multiple large doorways and very large egress pathways, assuming it's been built within the last 20 years."
Since codes can change frequently, it is incumbent upon managers to ensure that their facilities' emergency systems are up to date.
"Lighting codes, egress codes, and building codes have changed dramatically over the past 30 years, and any building essentially built before 1990 is going to likely be inadequately set up to get people out of the building safely to stairs and ramps and egress pathways," says Vedvik.
Testing and inspections
Testing is required by NFPA 101, which says that emergency lights and exit signs must be tested every month for 30 seconds. Tests are also required yearly to make sure that the batteries in emergency systems can produce lights for 90 minutes.
Many systems can conduct self-tests or include a push-to-test button instead of having technicians testing every fixture individually, a time-consuming practice taking them away from other duties. The self-tests are also popular with inspectors.
"A lot of facilities are going in that direction (self- or push-to-test), because the AHJs are now getting particular about the paperwork and seeing that green light," Crutchfield says. "It's really easy for a fire marshal to walk in, see that the light on the fixture is green, it's ready to go, and he can walk out. He doesn't have to wait for the maintenance guy to throw on the breaker and walk around making sure the emergency lights are working."
Keeping proper documentation of tests is important for when the AHJ is on site for an inspection. All technicians should know how to access documents related to the systems for inspections.
"Make sure to have a central location where documents are stored," Vedvik says. "These documents should include preventive maintenance schedules and plans."
Managers also need to prepare and store documents for new employees that outline the inspection process and anything else they need to know about the emergency systems. The documents should include information such as location of fixtures and outlining duties such as checking fire extinguishers and checking batteries in the emergency lights.
"We can't assume the incoming round of staffers has ever done this before, and they certainly won't know where anything is in the facility," Vedvik says. "Identify a centralized storage location with floor plans that identify the locations of all things that need to be tested monthly, including batteries.
Managers who are unsure about certain aspects of their emergency lighting systems or the requirements necessary to maintain them should schedule time with a professional who specializes in the particular systems.
"That's usually when someone says, 'I just got hired on,' or 'I've had this job for a couple of years, and someone asked me about battery testing and lights,'" Vedvik says. "We should probably have an assessment done and have a professional take a look at the entire campus. They can tell you the next steps to take, what to replace and upgrade, and look at the testing requirements."
Dave Lubach is the managing editor for the facility market team. He has six years of experience writing for the facility management industry.
---
---
---
Related Topics:
Comments