You Might Like
On FacilitiesNet
LEDs Illuminate Beautiful "Moving Room" At NYC Art Gallery
Sperone Westwater Gallery building in New York City uses LEDs creatively to highlight its "moving room."
OTHER PARTS OF THIS ARTICLE
Pt. 1:
4 Benefits of LED Lighting Beyond Energy Efficiency
Pt. 2:
Further LED Benefits: Enhanced Color, Flexibility of LED Light Sheets
Pt. 3:
Media Research Center Chooses LEDs For Flexibility, Simple Maintenance
Pt. 4: This Page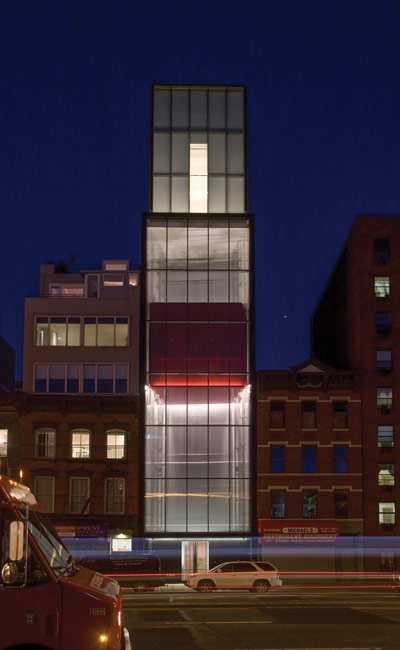 Gabe Guilliams
The Sperone Westwater Gallery in the Bowery area in New York City has a very compact footprint of 25 feet wide by 100 feet high. Central to its bold street appearance is a Ferrari red "moving room," a 12-by-20-foot room that moves gradually up the gallery's floors, its gentle pace a stark contrast to the fast-moving traffic below. LEDs are embedded into the perimeter of the moving room at its base and onto its roof, fitted around mechanical equipment to illuminate the full shaft no matter the position of the room.

Direct view to downward facing luminaires through the milled glass façade would create undesirable striations on the glazing, compromising the dramatic nighttime visual. Deep, narrow pockets were designed into the perimeter of the moving room, creating a concealed location for the fixtures. At the highest position of the room, a 60-foot length of shaft wall is exposed. A high output dimmable linear LED fixture with a six degree beam capable of grazing down the surfaces from less than nine inches away is used. The small source size allows very tight beam control from very small, high efficacy fixtures. Prior to LED technology, this design would not have been possible.

With the moving room at its lowest position, light output on the top of the room is at its peak. The ability for LED to maintain relatively constant color temperature throughout its dimming range meant that the various zones above and below the room all appear in harmony, regardless of each zone's current output level.
Continue Reading:

Lighting

4 Benefits of LED Lighting Beyond Energy Efficiency

Further LED Benefits: Enhanced Color, Flexibility of LED Light Sheets

Media Research Center Chooses LEDs For Flexibility, Simple Maintenance

LEDs Illuminate Beautiful "Moving Room" At NYC Art Gallery
---
---
---
Related Topics:
Comments