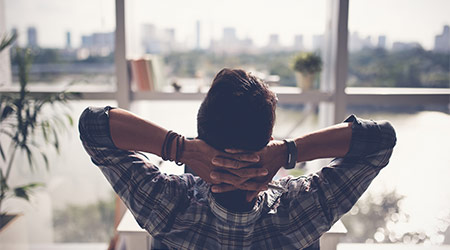 How to Choose Energy Efficiency, Healthy Lighting
Lighting that supports circadian rhythms and energy efficiency can be difficult to design. But not impossible. Here are some tips.
It is possible to have an energy efficient lighting design which beats code and supports human health. But it can be a pretty complicated proposition with a lot of variables to juggle. Facility managers are aided with more choices among luminaires built for purpose, ever more efficient LEDs, and improvements in driver technology.
Controls are an important part of achieving an energy efficient design and a successful circadian lighting strategy. And the system must be carefully verified and commissioned by lighting experts. But it's also important to remember that a lighting system may have vastly different end goals with different stakeholders.
"Think about value per watt, not lumens per watt," says Rae.
There is a lot of interest in circadian lighting, and a lot yet to understand about circadian system entrainment. For example, is it more important to have lower light levels in the later part of the day than to increase levels earlier in the day, says Safranek. "This is still the early days," she says. "We are still learning about the effects of lighting on the human non-visual system."
A lot of work is also happening in the code space to codify circadian lighting, though it is still in the development phase, says Stacy. Title 24 is making a special classification for circadian lighting as it pertains to energy use. The Illuminating Engineering Society is also developing updated guidance on circadian lighting, pertaining to how to design, implement, and maintain it, he says.
If you're in the market for some new luminaires, things to keep in mind include forward compatibility. A tunable LED system, though not a requirement for circadian system entrainment, coupled with controls, allows greater flexibility to meet future performance requirements in the space as understanding on the human health impacts of light and lighting expands, says Safranek.
Naomi Millàn is former editor of Building Operating Management magazine.
Continue Reading:

Lighting

Supporting Human Health With Circadian Lighting Design

How to Choose Energy Efficiency, Healthy Lighting
---
---
---
Related Topics: