Benefits of LED-based Smart Lighting Systems
Stores can use the Building Internet of Things to gather and share information.
OTHER PARTS OF THIS ARTICLE
Pt. 1: This Page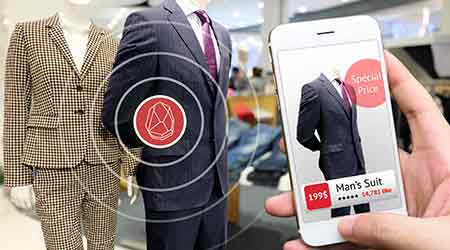 Consumers are looking for tech-forward convenience now more than ever, creating an unprecedented need for fast changes in the retail world. As brick-and-mortar stores evolve to meet their guests' expectations, many retail facilities are finding value in LED-based smart lighting technologies.
The benefits of smart lighting are two-fold. For consumers, using the technology means getting a customized, convenient shopping experience. On their smartphones, shoppers can use pre-populated shopping lists and turn-by-turn navigation to locate products. They can make requests for in-store assistance and receive location-based notifications about relevant sales and savings based on personal preferences or their shopping history.
Behind the scenes, retailers can use the data collected by smart lighting systems and their branded apps to better understand customers' preferences, needs, and time spent in specific areas. The data can then inform product placement decisions, inventory plans, and employee-customer interaction.
Beyond the technical aspects of smart lighting, controllable fixtures have the ability to shape a person's perception and evoke an emotional response through dimming and color temperature adjustment. These "live" lighting systems adapt to the evolving retail sales floor. A lighting system can be used to create a comfortable and intimate experience for customers. It can simultaneously highlight key products, enhance wayfinding, encourage exploration, and reinforce a store's brand.
Technology behind smart lighting
Smart lighting systems in retail stores apply the concept of the Building Internet of Things (IoT), a network of connected devices that exchange data through software and sensors.
Within a store, the Building IoT commonly incorporates visible light communication (VLC), bluetooth low energy (BLE) and other similar technologies into the lighting system. These innovations utilize programmable drivers and antennas to allow LED lighting fixtures to communicate with one another, creating a mesh grid over the sales floor.
Some technologies are one-way, allowing the lights to transmit data to smartphones, tablets, and other handheld electronics. This is common for use with client apps that give customers their location within the store, help them find products, and send them targeted coupons and deals.
Other technologies in the lights offer two-way communication. These are often used to track assets, monitor inventory, and in the very near future even allow purchasing/sales without the checkout lanes. The result is lightning-fast, networked communication of location-based information that humans can use.
Looking to the future
Advances in smart lighting technology will continue to allow retailers to stretch the limits of how they serve their customer base. The potential applications continue to grow alongside these innovations. Not too far in the future, products may be regularly embedded with radio frequency tags to communicate with smart systems. Retailers will better understand inventory levels and efficiently locate products in dense stockrooms. Stores will allow customers to complete the checkout process without waiting in lines; instead, they will use their cell phone to pay as they walk out the door.
Advances in digital lighting are giving retailers new tools to drive revenue, serve customers, and enhance the shopping experience — all while connecting consumers with the online experiences that many have come to depend upon. For retailers that are exploring the possible applications of smart lighting in their stores, it's important to also consider how a high-tech solution would benefit efficiency and improve the human experience. Businesses should first think about the value of the technology in terms of ROI.
Still, the decision to utilize smart technology does not have to be an all or nothing solution. An experienced design team can plan and incorporate individualized smart features that have outstanding benefits and remain within the owner's budget.
Jered Widmer (jwidmer@thelightingpractice.com), IALD, MIES, principal with The Lighting Practice, has designed architectural lighting for corporate, retail, historic, hospitality, academic, healthcare, and places of worship.
---
---
---
Related Topics:
Comments