You Might Like
On FacilitiesNet
Facility Manager Cost Saving/Best Practice Quick Reads RSS Feed
Can Sweat Negatively Impact Building IAQ?
January 14, 2021 - Contact FacilitiesNet Editorial Staff »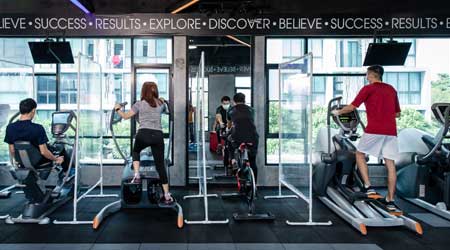 The pandemic has highlighted the role of human respiration and its impact on indoor air safety. However, researchers at the University of Colorado Boulder have observed another way occupants can impact indoor air quality: sweat.
Studying students working out in a weight room at the University's Dal Ward Athletic Center, researchers found that while working out the students generated three to five times the emissions they did while at rest. Emissions measured included amino acids from sweat or acetone from breath, according to the Cooperative Institute for Research in Environmental Sciences at the University of Colorado Boulder.
That is unsavory to think about on its own, but these compounds linger in the air and react chemically with other compounds already present, such as from the chlorine bleach-based cleaning products used in those spaces. Bleach is great at killing microbes on a weight bench, but as anyone who has read an MSDS knows, it can readily combine with other chemicals to produce some pretty dangerous substances. Researchers observed the formation of N-chloraldimines — a reaction product of bleach with amino acids. While more research is needed to fully understand the implications of the newly formed compounds on human health, the research report said similarly produced products of ammonia and bleach are known to be harmful.
One way to mitigate the chemical cocktail created by human and other sources in interior spaces is to ensure there is sufficient ventilation, which the pandemic has shown to be beneficial in diluting risk of viral infection as well.
Naomi Millán is editor of Building Operating Management magazine.
---
Comments