Facility Manager Cost Saving/Best Practice Quick Reads RSS Feed
HVAC Upgrade Delivers Savings and Performance
April 20, 2016 - Contact FacilitiesNet Editorial Staff »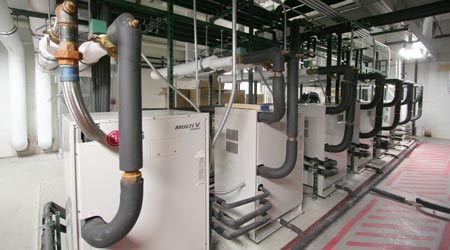 While undergoing a full renovation of the Decorah (Iowa) Community School District's high school building, project contractors were given the task of ensuring personalized student comfort remained a top priority.

The team faced several key structural and operational challenges during the renovation's planning process. First and foremost, given the project schedule, the HVAC systems would have to be installed while classes were in session, and installation would have to be completed in staggered phases to meet deadlines.

Second, the design of the building presented unique heating and cooling challenges for zoning needs. For example, the gym would require a different temperature compared to the classrooms, so the system needed to provide consistent and controlled comfort in spaces with varying uses and schedules. Finally, Decorah's renovation required a system that could integrate seamlessly with the hybrid geothermal system.

To meet the HVAC needs of the high school's building, the installing contractor Casper Plumbing and Heating, along with DPT Mechanical — the local LG HVAC solution provider — were hand-selected to provide a heating and air conditioning system that would allow independent, temperature-controlled environments for learning and extracurricular activities.

To outfit the high school, variable-refrigerant-flow (VRF) air conditioning solutions from LG Electronics were selected. These products included LG Multi VTM Water II heat recovery units, LG AC Smart II central controller with LG BACnet gateway, LG programmable thermostats and LG indoor units such as a cassette, wall mount, high static ducted and floor standing indoor units. In addition to the lower refrigerant piping installation costs that LG's hybrid heat recovery system offered, the system was able to provide simultaneous heating and cooling to flexibly match loads in all seasons while recovering heat to optimize efficiency.

VRF systems from LG lend themselves well to phased installation, as they are installed and commissioned as individual systems in their respective areas of the building. With school being in session, this helped in executing the renovation in phases. DPT Mechanical and LG conducted several onsite VRF trainings for staff and followed a strategic approach in working in specific areas of the school at certain phases of the renovation. This staggered process required an efficient solution to work around the school being in session. The team also conducted weekly site checks and visits to assess progress, and make adjustments to the process as needed over the course of the three-year installation timeframe. The team phased in a flexible installation and pipe system because of school hours and chose products that would operate more efficiently than the school's current system.

To ensure independent, temperature-controlled, energy-efficient spaces for a variety of student activities, LG VRF technology was proposed for simultaneous heating and cooling capabilities. To help maximize efficiency, the installation of the LG AC Smart II Central Controller with BACnet Gateway was also recommended. After a three-year phased installation, the high school is now home to one of the largest hybrid heating and cooling system in the nation. The school also added top-of-the-line technology to provide a more comfortable learning environment for its students, all while benefiting from overall cost and energy savings.

This Quick Read was submitted by Dan Hounsell, editor-in-chief of Facility Maintenance Decisions, dan.hounsell@tradepressmedia.com.
---
Comments