Facility Manager Cost Saving/Best Practice Quick Reads RSS Feed
HVAC Maintenance Strategy
April 19, 2017 - Contact FacilitiesNet Editorial Staff »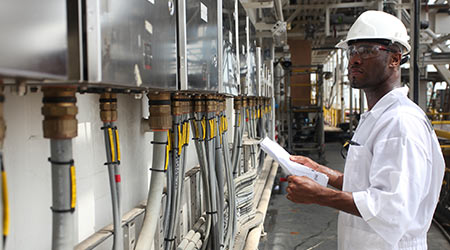 It's a new year and an ideal time to take a look at the maintenance strategy and outlook for the upcoming year. While it may be tempting to dust off the current HVAC maintenance plan and continue with operations as usual, managers need to make it a priority to thoroughly review any current plan and set goals to increase efficiencies and cost-savings.

HVAC systems account for a large portion of operational expenses and measuring any gains in energy efficiency from regular maintenance helps to show the impact hard work has on the bottom line. Spending time, focus, and resources on regular maintenance can keep equipment running longer and minimize breakdowns or outages.

How do Managers Get Started?
Reviewing current equipment and additional needs. When developing a facility maintenance checklist, identify equipment that falls into one of the following three categories. If any equipment is in one of these categories, that means it should be included in the maintenance plan.

DIRECT IMPACT. This is the equipment that will have a noticeable effect if it fails. For example, an air handling unit (AHU) for an operating room. If the coil is plugged, the doctors can't operate. Direct impact items must be on the maintenance list.

INDIRECT IMPACT. This would be a piece of equipment that might not be noticed if it fails. However, that failure could ultimately lead to a bigger problem. For example, a pressure gauge failing on the steam line going up to the AHU might not cause an immediate issue, but once it's realized the pressure is low, they have already called complaining about the cold. Indirect impact items should be on the docket.

ENVIRONMENTAL HEALTH AND SAFETY. These items need to be maintained because they are protecting the building occupants and items such as cooling tower fill that can lead to Legionella or dirty air ducts.

DETERMINE FREQUENCY AND RESPONSIBILITY. Now that it has been determined what needs to be regularly maintained throughout the year, it's time to determine how and when to perform maintenance. Utilizing historical data, such as a CMMS or a written maintenance program, is the best way to accurately determine how frequently equipment should be maintained. If historical data isn't available, refer to the original equipment manufacturer specifications.

Managers will then need to decided if the maintenance work will be done in-house or if it's going to require using a contractor. Tasks such as boiler cleaning and cooling tower maintenance used to be regularly farmed out, but manufacturers have come a long way providing affordable and easy-to-use equipment. Purchasing the equipment and having it on hand also allows you to perform the job when it's convenient and as often as needed throughout the year.

Do you have the right products for your needs? When the proper tools aren't used to complete maintenance tasks, it ends up doing more harm than good. For example, a saw wouldn't be used to hammer in a nail, so why use a pressure washer to clean coils? Pressure washers risk damaging delicate coil fins, potentially causing the need for repairs and spending more time and money than if a coil cleaning machine were to be used, which is specifically designed to clean coils. Some tools even allow clean-in-place maintenance to enable less downtime. Facility technicians want to make sure their time spent maintaining equipment is effective and productive. It's important to invest in the right products to save time and money and reduce the risk of damage and waste.

MAKE SURE EMPLOYEES ARE PROPERLY TRAINED ON EQUIPMENT. Improper use of equipment can cost time and money, so make sure any employees in charge of conducting the maintenance receives proper training. It can also help reduce the risk of injuries from operator error and make sure the job is done right the first time. When purchasing maintenance equipment, ask about any on-site training opportunities or additional resources.

KEEP AN OPERATION LOG. Most commonly used for chillers, operation logs can help monitor temperature, pressure and fluid level. This will help technicians identify when maintenance or repairs are needed if readings are unusual or raise red flags. This will help guide the maintenance plan in the future. It also gives facility managers an opportunity to highlight improvements and cost-savings that were achieved due to proper implementation of the maintenance plan.

IDENTIFY SPECIFIC GOALS FOR 2017. Hold the team accountable throughout the year by setting maintenance goals. Maintenance goals may touch on a variety of aspects, from finding cost savings to increasing efficiencies. Check in on the progress throughout the year, and share successes with the team and upper management.

Timothy Robb is VP of marketing and strategic business development with Goodway Technologies, a global manufacturer of industrial maintenance solutions used by facilities and plant maintenance personnel. Visit www.goodway.com for more information, or call 800-333-7467.
---
Comments