Data Center Meets Aggressive Schedule With Modular Strategies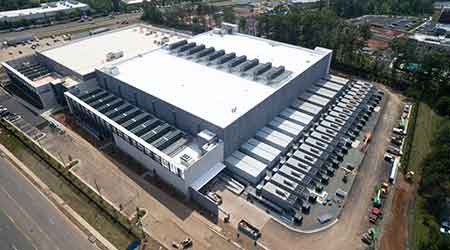 August 16, 2017 - HVAC
A 291,000-square-foot addition to an existing 129,000-square-foot northern Virginia data center included more than 240,000 square feet of raised floor space housing four independent computer room environments incorporating redundant backup for the building's HVAC systems.
The biggest challenge confronting the project was a very aggressive schedule that allowed only five months (January 22, 2016 to June 22, 2016) from preconstruction to completion of functional systems.
In order to accommodate the project schedule, all personnel and other resources had to be structured for a 24/7 work schedule. Jobsite logistics was a hurdle due to the limited amount of area around the footprint of the building. All deliveries had to be pre-planned and coordinated through the general contractor, to avoid congestion, delays and safety issues while off-loading materials.
The project's mechanical contractor, Shapiro & Duncan, implemented a plan that assembled personnel in teams to tackle the project in a building block approach. This approach was essential in order to facilitate coordination, design, fabrication, delivery, and placement of approximately 18,000 feet of welded steel HVAC piping.
The inventory of HVAC systems and equipment included 20 553-ton roof-mounted air cooled chillers, 20 50-HP in-line pumps with variable frequency drives, sixty 154-ton computer room air handlers, 16 humidifiers, three packaged rooftop air handling units, 47 variable air volume boxes, two chilled water fan coil units, as well as leak detection systems, among others.
A Coordinated Build
Key to this coordination process was Shapiro & Duncan's Building Information Management (BIM)/Virtual Design Coordination (VDC) system, which is used to troubleshoot mechanical and plumbing designs in conjunction with other trades. Job-specific project documentation (i.e., submittal data, shop drawings, etc.) was accelerated in order to provide needed product information to the BIM/VDC team. As segments of the BIM/VDC process were completed and the coordination drawings approved by all trades, the designs were forwarded to the procurement team and fabrication facility.
To jumpstart the fabrication effort, deliveries of bulk materials from local vendors were immediately expedited. Approximately one week following contract award, fabrication of piping systems commenced so that piping systems could be completed and loaded on flat-bed trailers in anticipation of delivery to the jobsite per the project schedule.
Piping assemblies including both supply and return lines — complete with pipe supports, insulation inserts, valves, fittings, specialties, pumps and air separators, in sections up to 40 feet in length — were pre-manufactured, numbered and truck-loaded in a sequence corresponding with the general contractor's schedule. There were over 60 tractor-trailer loads of piping delivered in this fashion. Piping and equipment deliveries were staged so that the material went into the building and quickly came together in Erector Set fashion, thus expediting the time needed to make final welded connections, test and insulate piping systems.
The coordination solution was not limited to piping assemblies. Layout and placement of chilled water piping as well as computer room air handling (CRAH) units not only required extensive coordination with the work of other trades, but also scoping out the logistics of sharing limited laydown space.
More intricate coordination was required for placement of piping on both the low and the high roofs of the building. Piping materials, pumps, and related equipment were staged on the unfinished roof, prior to placement of rooftop steel dunnage and the 20 air cooled chillers. Prefabricated piping/pump assemblies were strategically placed in position on the roof so that the steel dunnage could be erected above the piping, with the piping then lifted to connect to the underside of the steel. This approach eliminated the need to man-handle large pumps and piping under the steel after it was erected, thus saving time and eliminating the potential for damaging the roof substrate.
One more unique aspect of Shapiro & Duncan's mechanical solution for this enterprise class data center is the building's chilled water system. This system is equipped with automatic control valves designed to divert water flow from one area of the building to another, so that the cooling needs of any computer room can be supplied from any of the chillers and pumps installed.
---