VRF: Strategies for Success
With savvy specification, managers can ensure systems deliver benefits related to installation, operation and energy efficiency.
OTHER PARTS OF THIS ARTICLE
Pt. 1: This Page
Pt. 2:
VRF: Understanding Facility Needs
Pt. 3:
VRF: Focusing on Fine-Tuning
Pt. 4:
VRF: Unlocking Potential Benefits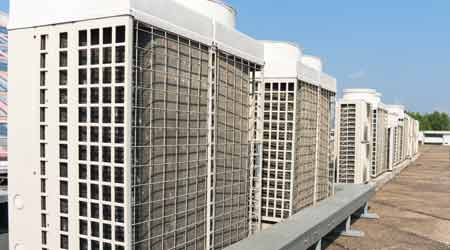 Variable refrigerant flow (VRF) technology has become a popular option in recent years in institutional and commercial facilities addressing comfort and cost concerns in selecting air conditioning systems. For maintenance and engineering managers involved in the decision-making process, the technology can be challenging. By understanding the technology and issues it presents related to design, construction, startup, and maintenance and operation, managers can ensure the investment in VRF technology pays the anticipated dividends related to occupant comfort, energy efficiency, and the bottom-line.
Technology evolution
All-air space heating and cooling systems use refrigerant like a thermal sponge that gathers energy in one location and wrings it out in another. An array of options can perform this process. Traditional mechanical cooling applications consist of compressor systems using vapor-compression refrigeration technology with heat rejection and one terminal device, such as a blower coil or air handler. VRF systems use multiple terminals connected to a similar compressorized apparatus. Large, central-station heating and cooling systems are economical in scale but can limit flexibility and become relatively costly when applied to smaller buildings with diverse or rapidly cycling heating and cooling loads.
Split systems with classical arrangements have one evaporator, condensing unit and pair of pipes for refrigerant vapor and liquid. Traditional systems suffer from limitations in piping length and pressure drop, relative positions of indoor and outdoor units, and confinement to the application of one low-side terminal unit. Operation in both heating and cooling is limited to relatively narrow ranges of conditions, and they present performance challenges when air entering the outdoor coil falls below 60 degrees for cooling and below 40 degrees for heating.
In the early 1980s, Asian manufacturers overcame the issues with complex split systems by adapting multiple conditioning terminals without complex charge management equipment to residential and hospitality applications. These companies also introduced heat pumps that could heat and cool simultaneously with one condensing unit. VRF became achievable on a small scale, and they were capable of long piping systems and extended operating ranges.
But the broader capabilities require innovations such as variable-speed compressors, refrigerant control manifolds, and additional piping for low-quality liquid. Digital controls now permit load anticipation, intelligent defrost controls, and terminal units with fans that reconfigure themselves to limit generation of noise in occupied areas.
Selection spotlight
VRF systems are available with water- and air-source or sink, cooling-only, heat pump, and heat-recovery configurations. Zone selection must take into account equipment size limitations, but managers who recognize opportunities can achieve installations that benefit occupants. They can arrange VRF systems as air-cooled with condensing units located to reject energy to ambient air to suitably secure locations.
Recently, water-cooled condensing units have become available. They require a connection to open- or closed-loop heat-rejection systems that employ open cooling towers or dry coolers, as well as pumps that circulate cooling water to condensing units distributed through the building. The added cost and complexity of water-side heat rejection can be offset by the reduction in lift — the pressure increase demanded of compression equipment. When the life of the compressor is easier, the life of the operator is too.
Compared with traditional split systems, VRF systems can minimize ductwork, provide quieter operation and greater occupant satisfaction, and operate with significant economies in building-wide energy use.
Continue Reading:

HVAC

VRF: Strategies for Success

VRF: Understanding Facility Needs

VRF: Focusing on Fine-Tuning

VRF: Unlocking Potential Benefits
---
---
---
Related Topics:
Comments