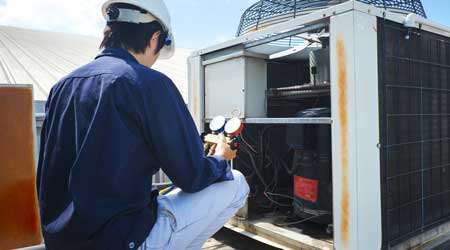 To build buy-in among facility executives, managers must show that HVAC technician training will benefit the organization.
Understanding Options for HVAC Technician Training
Arming operators and technicians with the right skills can help managers deliver improved productivity and increased savings
Managers have a range of options when it comes to training programs for HVAC system operators and maintenance technicians. Structured, instructor-led programs can take place on site or at a remote location. Trade schools and community colleges offer certification programs. Online courses range from streamed lectures to digital simulation of system operation. The key is finding the training options best suited for a department's specific needs.
Instructor-led programs are the traditional format for training programs. While these programs once focused primarily on lectures, they have evolved into hands-on workshops that address tasks best learned through experience. The tasks can be physical, such as tearing down and repairing a valve, or they can be more thought-oriented, such as troubleshooting a system's inefficient operation. With an instructor overseeing the process, students can receive continuous feedback.
Certification programs are essential for maintenance personnel who work with certain types of equipment where they are required to demonstrate their proficiency. For example, technicians who work with most types of refrigerant are required to be certified by the U.S. Environmental Protection Agency, a process that requires completion of an accredited course.
Online courses cover such topics as HVAC system design, energy-efficient system operation, troubleshooting system operation, and certification. Many courses include time spent on a campus where students participate in hands-on activities. These courses offer the advantage of flexibility. Students can select the times they want to complete the course materials, and they can complete most of it without having to travel to a campus.
Online courses also tend to be much less expensive than other types of training programs. The courses themselves cost less, and workers pay few if any commuting costs. This benefit allows managers to increase participation rates among personnel without busting the training budget.
Online courses also come with several disadvantages that managers need to be aware of. The lack of interaction between students and instructors can limit the benefits, and the lack of interaction can contribute to a lower completion rate than other training programs have.
Most programs use a combination of training options, picking the ones that are most suitable for the particular program need.
Training is not a one-and-done effort. To be effective, it must be ongoing. Conditions change in facilities, maintenance needs change, and HVAC systems change. All of these changes contribute to the need for managers to regularly review the skill level of HVAC system operators and maintenance personnel to understand how closely they align with the needs of the operation.
James Piper, P.E., is a national consultant based in Bowie, Md. He has more than 35 years of experience with facility maintenance, engineering and management issues.
Continue Reading:

HVAC

Building Successful Training Programs for HVAC Technicians

How To Build Buy-In for HVAC Training

Understanding Options for HVAC Technician Training
---
---
---
Related Topics: