Software Tools Help Forecast HVAC Operating Costs
Second of a three-part article on how determining long-term costs can make energy efficiency more attractive to upper managers.
OTHER PARTS OF THIS ARTICLE
Pt. 1:
How To Calculate Life-Cycle Costs and Justify Energy Efficient HVAC Upgrades
Pt. 2: This Page
Pt. 3:
INFOGRAPHIC: FMs Report On The State of Their HVAC Equipment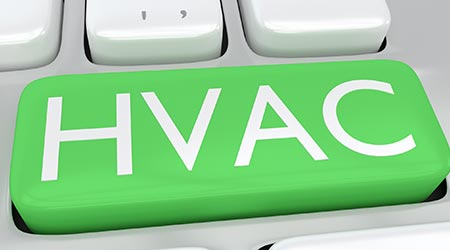 Many equipment manufacturers have online calculators to estimate annual utility use and savings for replacement HVAC equipment with various SEER, EER, or AFUE ratings. These calculators provide a rough savings estimate and can be a good starting point for comparison of equipment selections.
For larger equipment, such as a chiller and boiler replacement, a more detailed analysis is required. If the existing equipment is sub-metered, then obtaining a rough projected energy savings can be as simple as comparing the efficiency ratings of the new equipment to the actual performance of the existing unit. However, when this information is not readily available, an energy model will need to be created for the building. This can be performed by using eQUEST software, developed with funding from the U.S. Department of Energy and other sources.

eQUEST is a powerful tool for building energy modeling. For HVAC equipment replacement, a quick schematic model of the building can be created. The existing building and equipment parameters (construction type, temperature set points, operating hours, and occupancy schedules) can be run in a simulation to obtain estimated annual energy consumption. The model's simulated performance can then be compared to actual building consumption data. Changes in input data may have to be made to the model until the simulated energy performance reasonably matches actual building energy consumption. The eQUEST simulation output includes an estimated annual energy consumption breakdown by major building components — including HVAC systems such as cooling, heating, and fan energy — which can aid in determining life-cycle costs.

Creating an energy model of the building has the added benefit of allowing a facility manager to experiment with various temperature set-backs and other non-capital energy savings measures.

Other costs
In doing a life cycle cost estimate for HVAC equipment, it is easy to overlook some things that should be factored into the annual maintenance costs. Maintenance costs include repairs, replacement parts, and labor rates of technically capable personnel to maintain and repair the equipment. Hidden costs include availability of replacement parts, warranty periods, and warranty contractual obligations (such as who is allowed to work on the equipment by the manufacturer as to not void any warranty).

For example, assume a chiller has a seven-year manufacturer's warranty, but all parts are required to be from the manufacturer and all labor has to be by manufacturer-approved service technicians. The manufacturer may also determine required maintenance intervals. If the nearest warranty service technician is located in an adjacent state (or country) the facility manager will be paying for additional travel costs. There may also be a minimum parts charge per service call, whether those parts are needed or not. These manufacturer's requirements may add additional costs to a replacement option and need to be identified.

Details are important
Simple things such as what type of refrigerant is used in chillers, or oil versus oil-less equipment, can have a tremendous cost impact over the life cycle of the equipment and should be carefully evaluated. As an example, items that require oil for lubrication have bearings that wear out, typically requiring a major equipment overhaul, while oil-less magnetic levitation components will not require a similar bearing replacement.

Stationary engineer requirements or special permits or fees may also be a hidden cost. Certain size boiler plants and ammonia chiller systems may require a stationary engineer to be on site 24 hours a day, seven days a week. However, if a redesign of these systems to smaller boilers or different refrigerant can be effectively completed, the project would remove these personnel requirements and there would be significant labor cost savings which would be reflected in the life-cycle cost analysis.

All of these costs need to be considered in a life-cycle cost analysis. Over the life of the equipment, operating, and maintenance costs can easily exceed the upfront costs.

In calculating the estimated life-cycle costs, the difference in bottom line totals between various options will highlight the proper course of action and determine the best long term option. Unfortunately, the best long term solution may exceed what is allowable in the current year's facilities budget. In that case, maybe the risk of trying to get "one more year" out of the equipment is indeed a viable option.

Conrad Kelso, PE, CEM, works for Facility Engineering Associates as the Santa Rosa, Calif., office manager. He has been a lead for facility condition assessments and energy audits for buildings across the country. He can be reached at Conrad.Kelso@feapc.com.

Phil LeBrun is a mechanical/HVAC consultant at the firm. He has nearly 40 years of mechanical experience ranging from assessing and trouble-shooting systems to design and installation.

Email comments to edward.sullivan@tradepress.com.
Continue Reading:

HVAC

How To Calculate Life-Cycle Costs and Justify Energy Efficient HVAC Upgrades

Software Tools Help Forecast HVAC Operating Costs

INFOGRAPHIC: FMs Report On The State of Their HVAC Equipment
---
---
---
Related Topics:
Comments