Properly Sizing Chillers for Improved Energy Efficiency
With careful planning, upgrades of boilers, chillers and air-handling units can improve efficiency, comfort and savings
OTHER PARTS OF THIS ARTICLE
Pt. 1:
Specifying HVAC Equipment Based on Facility Needs
Pt. 2: This Page
Pt. 3:
Addressing Air Handler Upgrade Challenges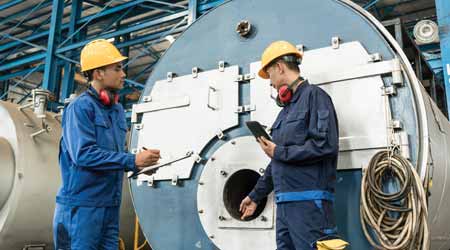 Building chillers often represent the largest HVAC system investment and energy users in a facility. Upgrading chillers give managers an opportunity to improve performance and energy efficiency, but only if they carefully plan the process.

The first issue to address is capacity. Managers should not assume they have to match the capacity of the existing chiller. Chillers have a typical service life of 20-25 years. Over that time, building occupancy and cooling loads in the facility change, resulting in most existing chillers being either oversized or undersized.

The only effective way to determine the size of the chiller or chillers to install is to recalculate the system's cooling load based on current and anticipated conditions. Since chillers operate at their highest efficiency at or near full load, properly sizing the chiller upgrade is critical in minimizing energy costs.

In selecting the chiller upgrade, managers also must look at a number of options. Since chillers are most efficient at full or near full load, they should consider installing two smaller chillers rather that one large chiller, if there is sufficient space. Two chillers provide a level of redundancy and allow technicians to only operate one chiller when cooling loads are low.

Another option that can allow managers to better match chiller capacity to load is installing variable-frequency drives on the chiller. By slowing the operation of the chiller as loads decrease, chillers can better maintain their operating efficiency over a wider load range.

Managers also need to address the logistics of the installation. As with boilers, the mechanical room must have sufficient space to allow installation of the new chiller or chillers. Technicians also must have a clear path from outside of the facility to the mechanical room in order to get the old chillers out and the new ones in.

Managers also need to plan for connection to the existing utility systems. Are existing piping and pumps sufficient for the upgraded chillers? Is the electrical service of the proper voltage and capacity, or will the system require an upgrade? Failing to take these factors into consideration during the planning phase only increases costs and delays.

A third issue managers need to address in the chiller upgrade planning stage is timing. If the facility requires chiller operation for only part of the year, managers can plan the upgrade to take place during the off-season.

But many facilities require year-round chilled water. Providing this service during the chiller upgrade requires that managers identify all areas requiring chilled water or other cooling and provide temporary cooling. Again, failing to plan for these needs will only make the upgrade process more difficult.
Continue Reading:

HVAC

Specifying HVAC Equipment Based on Facility Needs

Properly Sizing Chillers for Improved Energy Efficiency

Addressing Air Handler Upgrade Challenges
---
---
---
Related Topics:
Comments