Product Focus: Boilers and Water Heaters
Part five of a five part series on Boiler and Water Heater Efficiency
OTHER PARTS OF THIS ARTICLE
Pt. 1:
Boosting Boiler and Water Heater Efficiency
Pt. 2:
Increasing Boiler Efficency by Using Proper Maintenance
Pt. 3:
Seasonal Schedules and Climate Play a Factor in Boiler Efficiency
Pt. 4:
SIDEBAR: Energy-Efficiency Resources
Pt. 5: This Page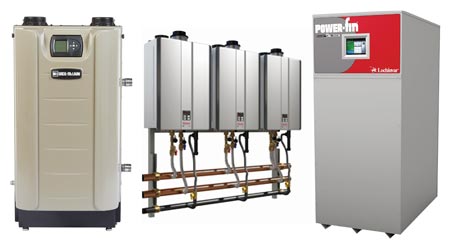 Rinnai Corp.
Designed as a replacement for boiler and storage-tank applications, the modular hybrid water heating system is a tankless rack system, powered by the C199 condensing tankless water heaters, paired with a 119-gallon-storage tank and recovery pump skid system. The modular hybrid water heating system heats water outside the tank, enabling it to last longer. The system can be installed in the field by coupling the tankless rack system to the storage tank and recovery pump skid system.
Weil-McLain
Featuring an annual fuel utilization efficiency rating of 95 percent, the Evergreen Boiler is adaptable for most heating needs, including light commercial and single- or multi-boiler installations. The flexibility of the system reduces setup time and costs. Three multiple-boiler sequencing options include smart mode, series mode and parallel mode. The boiler maintains optimal efficiency through lead-lag rotation and balanced heat loading.
Lochinvar
Smart Touch Control offers an 8-inch touchscreen with infographics for quick set-up, while the CON·X·US platform allows users to monitor and manage the unit from any internet-capable device. The platform also sends alerts via text or e-mail notifying the user of changes in the system status and allows for the modification of settings from almost anywhere when connected to Wi-fi or Ethernet. The platform has been added as a standard feature on Power-Fin boilers of 500,000-5,000,000 Btu per hour and water heaters of 500,000-2,000,000 Btu per hour.
Goodway Technologies
The SAM-JR firetube boiler cleaner is designed for use with smaller boilers. Made for boiler tubes with an outside diameter of less than 2½ inches, this lightweight, portable firetube cleaner is for gas-fired boilers, oil boilers and any smaller firetube boiler with light to medium scale deposits. It is dial-in, and its tube length and dual distance indicators let technicians set the tube length and punch away without fear of overextending the machine and tape.
Burnham Commercial
The Series 4S furnace is designed for low volumetric release rates of no more than 136,000 Btu per hour per cubic feet. The design incorporates positive water flow circulation and maximum heat transfer to maximize ratings. The lower the release rates, the easier the boiler works. The Series 4S is also converted to a low nitrogen oxide product when needed. All external trim piping is designed and installed in accordance with the ASME code and is certified by an independent inspection agency for compliance.
Noritz America Corp.
With an input range of 16,000-199,900 Btu per hour, the NC1991-DVC has a maximum flow rate capacity of 9.8 gallons per minute. As part of the ProTough line for indoor installations, the design features an ultra-low nitrogen oxide burner and less than 20 parts per million or 14 nanograms per joule. The heat exchanger is manufactured with commercial grade copper with 25 percent thicker piping than standard models. Concentric venting is rated for zero clearance and requires only one wall penetration.
Rheem Manufacturing
Electric tankless water heater Manufactured to improve hot water performance, the new Rheem Classic Series Tankless Electric Water Heaters are efficient and easy to install point-of-use units. The system utilizes a self-modulating technology that activates only when water is running, which provides hot water faster without wasting energy – and performing at a thermal energy efficiency rate close to 99 percent. The compact design mounts directly to the wall with common hardware and the unit's external control panel has a digital display so water temperature can be adjusted in one-degree increments from 80 to 140 degrees.
Continue Reading:

Boilers and Water Heaters

Boosting Boiler and Water Heater Efficiency

Increasing Boiler Efficency by Using Proper Maintenance

Seasonal Schedules and Climate Play a Factor in Boiler Efficiency

SIDEBAR: Energy-Efficiency Resources

Product Focus: Boilers and Water Heaters
---
---
---
Related Topics:
Comments