Observing and Correcting Relief Valve Piping Issues
While taking inventory, technicians should visit each location and observe the piping. If a relief valve is leaking, fix or replace it. Once the seat of the valve becomes too worn, it will not work properly.
Are there isolation valves upstream of the relief valve that could prevent it from protecting what it was designed for? That is a huge red flag. If a system can never go out of service and a technician needs to take a relief valve out of service, selector valves can ensure one valve is in service while the other valve is locked out so technicians can remove it for testing or repair.
Look at the relief vent pipe, and understand all of the key components: where it goes; if it is in a safe location; if it reduces in diameter at the outlet, etc. If the pipe does reduce, an engineer might be able to perform calculations to verify whether the vent pipe size reduction is acceptable. As a rule of thumb, when multiple relief valves join, the area of the resulting tee and pipe should be at a minimum the sum of the two pipes joined.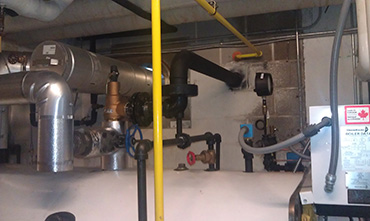 Low-pressure steam boiler with drip-pan elbow. Vent pipe is not supported.
If the relief valve vents steam, there should be a drip-pan elbow at the outlet of the relief valve. The elbow serves a number of functions. It ensures the vent pipe does not have water sitting at the valve opening, which can cause water hammer when it pops. It keeps liquid off the valve that could cause minerals to deposit or corrosion and seal the valve shut. It also allows air to enter the vent pipe and aids in reducing the backpressure on the valve.
Make sure the drip-pan elbow drain is not plugged and goes to a open drain so it can be observed. The vent piping needs to be supported separately from the discharge of the valve, or the valve can be torqued, and it might not go off. Ensure that it can never thermally grow down onto the valve body. Remember, the vessel or pipe it connects to probably is going to thermally grow, so do this inspection when the system is operating, and make sure there is a gap between the valve and the pipe. If there is a mist eliminator in the steam vent pipe, remove it. If mist is coming out of the vent pipe, repair or replace the valve.
Continue Reading:

Online Exclusive Column

Safety Relief Valves: Avoiding Horror Stories

Taking Inventory of Safety Relief Valves

Observing and Correcting Relief Valve Piping Issues

Schedule Regular Safety Relief Valve Inspections
---
---
---
Related Topics:
Comments