How VRF Helps Facilities Cut Utility Bills
Montgomery, Alabama, has seen savings up to 42 percent after implementing VRF technology.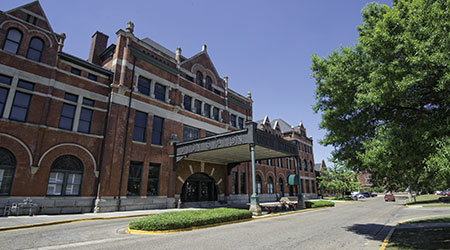 The city of Montgomery, Alabama, has significantly reduced utility bills at its public facilities by installing variable refrigerant flow (VRF) technology.
And the savings are just the beginning.
VRF, an HVAC technology that dates back to 1982, uses refrigerant as the cooling and heating medium. It is conditioned by one or more condensing units and circulated within a facility to multiple indoor units. Unlike conventional chiller-based systems, VRF allows for varying degrees of cooling in specific areas. That's because large air handlers are replaced by smaller indoor units.
Montgomery, which has a population of 240,000, maintains 326 conditioned air space facilities. They range in size from 1,800-square-foot community centers to a 72,000-square-foot office complex. The oldest dates back to 1897.
Doug Jones, Montgomery's director of building maintenance, began to study VRF a dozen years ago for the most practical of reasons.
"For anybody who is in any kind of major property maintenance type of business, one of their major concerns has got to be utility bills — they do nothing but go up every year. Ours were getting deadly out of control."
It was then that Jones convinced the chief of the city's fire department to allow him to convert a single fire station from a standard two-pipe boiler/chiller setup utilizing condensation units to a VRF system. The result was impressive: power bills plummeted by 36 percent.
Jones, in his current position for 13 years, is a 26-year facilities management veteran and oversees a staff of 75. He previously served as assistant director of street maintenance and construction, and has worked for the city for more than 39 years.
Savings from 24 to 42 percent
Montgomery currently has VRF systems installed in 18 of its buildings. They include City Hall, at 44,000 square feet; a downtown government office building at 25 Washington Ave. measuring 72,000 square feet; and six of the city's 16 fire stations.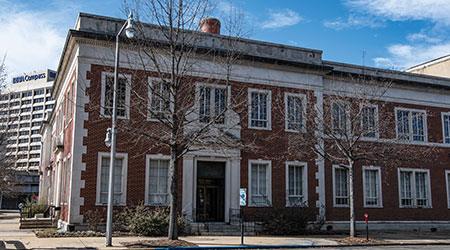 (The 44,000-square-foot City Hall is one of Montgomery's 18 buildings taking advantage of cost savings with VRF technology.)
VRF is, as the name suggests, a variable-speed system.
"Unlike the HVAC in your house or a standard HVAC, where if you turn on the thermostat it turns it wide open, VRF only ramps up to where it needs to," Jones says. "If you have a fairly cool or warm space that you are trying to cool, it doesn't come on full force. It will ramp up to just what it needs to condition that space."
The process works: power bills in various locations have been cut from 24 percent to 42 percent. That said, it is not cheap: installations at the six-floor building at 25 Washington cost $94,000 per floor. The property, built in 1897, includes office and meeting space as well as a restaurant, was remodeled in 1981 and converted to VRF recently.
The project at Union Station, which was completed in July, took nine months, but it is atypical, Jones says.
"That building is 44,000 square feet and was built in 1897, so we were going through brick walls that were 18 inches thick."
However, the home team locker room at Riverwalk Stadium, which was converted to VRF two years ago, took just two months.
To date, the installations Jones and his team have completed have saved the city almost $1 million per year. He estimates that if the city can add VRF to all of its buildings, it could realize a 30 to 35 percent reduction in utility costs.
The city's VRF system uses products from a trio of manufacturers, including Fujitsu Limited.
The return on investment has been solid, he says.
"When we installed the units at 25 Washington the power bill there was running $22,000 a month. We ran it down to $7,000 a month and paid for the equipment in 31 months. We have continued to show savings on power bills from there on out."
The hardest part of installing the VRF systems, says Jones, is in "retroing" them into a renovated facility.
"Because of the copper tubing and the way things are done, that is the most challenging part of it. If you figure it into a new-construction building there is really no challenge."
Going to the next level
In some instances, workarounds have proven to be more than a little challenging.
"Fire stations, of course, are 24 hours a day, seven days a week, and so the workarounds are very, very challenging," says Jones.
A lot of it is scheduling, and the rest "is a matter of going in and mapping out where your equipment is going to go and running all of the necessary copper tubing."
With around-the-clock operations, finding ways to minimize the downtime is naturally of paramount importance.
"At some point you have got to shut down the old system to install the new system," Jones says, "so that's your major workaround, figuring out when this building can actually be without any mechanical in it for a two- or three-day period."
Thus far, Jones says, there have not been any bugs in the VRF systems. In fact, he has already begun taking them to the next level. In three facilities — Riverwalk Stadium, the main public library, and Union Station — his team has installed a smart system that lets him monitor and control each from his office.
"I can actually sit here at my desk and pull up the entire system with each of these buildings," he says. "If I get a phone call and someone says, 'We're hotter, this unit isn't working right,' I can spin around to my computer and with three clicks I can be into the system and see exactly how the systems are running. I can see exactly what the spatial temperatures and the pressures are on the units."
With all the benefits, why would a facility manager decide not to go with VRF?
"The argument against this is that it is new technology, and some people are afraid of new technology," says Jones.
It can be "a scary proposition" not only for managers but for the workers.
"I've got nine HVAC mechanics who work for me, and I can tell you that 10 years ago seven of them were scared to death of this stuff," he says. "Today, I can put any one of my HVAC mechanics on a VRF system and they can do an install or a repair on it."
The necessary training, including continuing education, has been provided by one of the manufacturers, and has proven effective.
"My HVAC mechanics have their own laptops and trucks. They can walk into these facilities, plug in and diagnose an entire system while standing in one spot on a controller on their laptop," says Jones.
The goal is to eventually have every Montgomery facility set up with VRF, but it will take time. Five years ago Jones had projected it would be a 15-year project, but it's going to be longer than originally planned.
"Of course, the only problem with that is we are government, so as the economy swings one way or another revenue goes up, revenue goes down. We are probably still a good 15 years out before all of our facilities will move to a VRF system" he says.
Conceding that "hindsight is always 20/20," Jones reflects that the only thing he would have done differently is getting his entire staff of mechanics trained from the outset.
"I started out with four of my nine mechanics on it, and that ran into a little bit of a hassle whenever there was a diagnostic issue because now you are having to move crews around," he says. "I think that, knowing what I know now, I would have certified every one of my HVAC mechanics upfront."
Jones' advice to colleagues across the country is twofold: do the upfront research and put the initial trepidation aside.
"We were actually among the first in the Montgomery area to install these systems. In fact, we've got two of the three largest systems across the United States right here in Montgomery. The biggest thing I can tell you is to do your research — and don't be scared of the technology."
Howard Riell is a freelance writer based in Henderson, Nevada.
---
---
---
Related Topics:
Comments