Boilers: Repair or Replace?
Managers at UCHealth Memorial Hospital in Colorado Springs had to overcome scheduling and access challenges to deliver a successful boiler upgrade.
OTHER PARTS OF THIS ARTICLE
Pt. 1: This Page
Pt. 2:
Boilers: Specifying for Facility Needs
Pt. 3:
Boilers: Overcoming Challenges, Learning Lessons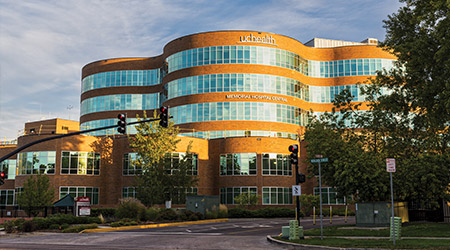 An age-old proverb that begins, "For want of a nail a horse was lost" goes on to warn that one small problem can lead to the loss of a kingdom. For managers at UCHealth Memorial Hospital in Colorado Springs, Colo., the small problem involved a lack parts for boiler burners.
The issue did not result in a lost kingdom, but it did force managers to remove a roof and meet a tight construction schedule on their way to completing a challenging boiler upgrade.
"The key disruptive tasks — taking the roof off the building, craning out old boilers, lifting and setting new boilers — required months of pre-planning and coordination," says Norman Wolfe, the hospital's senior project manager with design and construction. "But it's really fun when the operation all goes as planned."
The tipping point
UCHealth Memorial Hospital is a 1.6 million-square-foot general hospital with full range of medical and surgical specialties. Portions of the building date back to 1947, with major additions in 1974, 1994 and 2005. The hospital's old boilers were installed as part of the 1974 addition.
"The boilers were in very good condition, well maintained, but it was increasingly hard to get repair parts for the burners," Wolfe says. "The main boiler pressure vessels were OK, even though they had reached 40-year life expectancy, but it was increasingly apparent that the burners, at least, needed ASAP replacement.
"I know that they had several instances where one or the other of their boilers was down for a period of time waiting for parts to make repairs on their burners. The problem was that the parts were not readily available because (the boilers) were so old. We're required by hospital code to have redundancy on our boilers, and if one boiler was off line, we didn't have redundancy. That was putting us at risk."
The old steam boilers — which provided building heat and domestic hot water and steam for sterilizers and humidification — delivered 12,000 horsepower (hp) and were designed for lead/lag to run on one boiler at a time for all but the highest peak loads.
The 1974 installation included a 7,500 hp boiler to handle lighter loads during warm weather, and it remains in operation.
"The hospital facilities maintenance department first identified the need to replace the boilers and was intimately involved throughout the study, design, construction, and commissioning process," Wolfe says. Initially, managers focused on the smaller issue — the often-repaired burners.
"We evaluated the option to replace only the burners on the existing boilers, but it was rejected partly due to the anticipation that we would then in the near future need to completely replace boilers even if the burners were still OK, plus the desire to increase capacity," Wolfe says. "Therefore, the hospital leadership signed off on the decision to fund complete replacement."
Continue Reading:

Retrofits and Renovations

Boilers: Repair or Replace?

Boilers: Specifying for Facility Needs

Boilers: Overcoming Challenges, Learning Lessons
---
---
---
Related Topics:
Comments