Boilers: Capital Improvements for Energy Efficiency
Capital improvements to Tulsa's CityPlex Towers offer lessons in finding efficiency as facilities.
OTHER PARTS OF THIS ARTICLE
Pt. 1: This Page
Pt. 2:
Boilers: Replacement Based on Building Load
Pt. 3:
Boilers: Upgrades That Deliver Results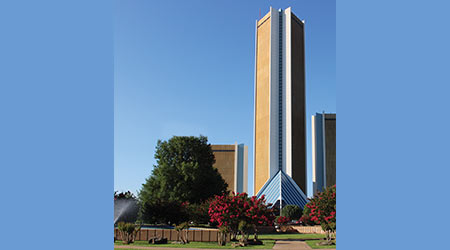 Institutional and commercial facilities are in a constant state of change. Office building tenants relocate and expand, university programs evolve, and advances in technology prompt an array of upgrades throughout facilities.
For the facilities department at CityPlex Towers in Tulsa, Okla., changes involved more than knocking out a wall or updating signage. The evolution of the 36-year-old, three-building complex from health care facility to office complex also involved major upgrades to the HVAC systems with the goal of addressing energy-efficiency demands of a new era.
Evolving operations
In 1981, evangelist Oral Roberts opened the 2.2 million-square-foot complex, which included a 60-story tower, in Tulsa, Okla. Originally known as City of Faith Medical and Research Center, the building began operation as a 777-bed hospital.
"The City of Faith never quite materialized as Roberts had envisioned," says David King, director of energy management with CityPlex Towers. "There are floors in the hospital tower today that have never actually been completed. Out of the 777 beds in the hospital, the most that had ever been occupied was around 180."
In 1989, just eight years after opening its doors, the center closed and began its evolution into an office building. It reopened in the early 1990s as CityPlex Towers and is owned and operated by Oral Roberts University. When it reopened, its two original 2,500 horsepower (hp) boilers operated the buildings, which feature a range of tenants.
"We have a multiple-tenant facility (with) everything from attorneys to dentist offices, with Oklahoma Surgical Hospital being our largest tenant within the complex," King says. "Being intended as a hospital, clinic and research center, they built the complex as a 24/7 operation with laundry services and all the things that would require high-pressure steam. Well, today we don't need all of that, and from day one, the boilers were grossly oversized for the load."
Changing for efficiency
By the late 2000s, the CityPlex Towers complex had become expensive to operate due to the buildings' age and deferred maintenance. In 2009, CityPlex Towers instituted a multi-million dollar capital improvement plan.
"Prior to me coming on board in 2010, a $7.5 million chiller replacement and cooling tower systems relocation project was just wrapping up," King says. "After 2010, there was added money to replace the exterior curtain wall to all three towers. The building was getting old and hadn't been maintained well, so it needed some work."
In addition to upgrading chillers, cooling towers and exterior curtain walls on all three buildings, capital improvements also included a roof replacement, atrium roof replacement, a new fire alarm system, a dehumidification system, three new 500 kilowatt (kW) back-up emergency generators, and lighting upgrades.
Since 2009, several capital improvement projects have been completed, totaling more than $20 million. Within that $20 million was a boiler-replacement project geared toward making the towers operate more energy efficiently and meeting the needs of the buildings' current tenants.
The two boilers installed in the late 1970s and early 1980s featured a 4:1 turndown ratio, and each boiler could produce 625 hp, which was still too large a load for the complex. Before 2010, CityPlex Towers featured 301 air handlers, each with steam coils and pneumatic steam valves. In 2010, King and his staff set out to replace the pneumatic components with digital controls and valves.
"We were fixing a lot of the heating and cooling because of the fact that the (valves and coils were) not calibrated and had leakage," King says. "We were making our boiler problem even worse by trying to stay online because we were fixing other problems out in the building."
In addition to air handler leaks, the oversized boilers cycled off if they built up too much pressure. With the boilers continuously cycling on and off, the wires started to heat up, as well. The fuses also heated up and eventually tripped. To prevent this from occurring, King and his staff developed a plan that involved simultaneous heating and cooling.
"We were basically falsely loading the boiler with a chiller," King says. "Some steam coils were opened to utilize the heat, and then we had to recool that air with a chiller. So much extra combustion air was being brought in that the efficiency of the boiler just dropped greatly as far as the gas consumption versus the Btus we were getting out of it.
"We guessed the boiler was running at about a 30 percent efficiency level. Around 2008, this building was very, very inefficient and very, very expensive to operate, and we have changed that over the past couple of years."
Continue Reading:

Boilers

Boilers: Capital Improvements for Energy Efficiency

Boilers: Replacement Based on Building Load

Boilers: Upgrades That Deliver Results
---
---
---
Related Topics:
Comments