You Might Like
On FacilitiesNet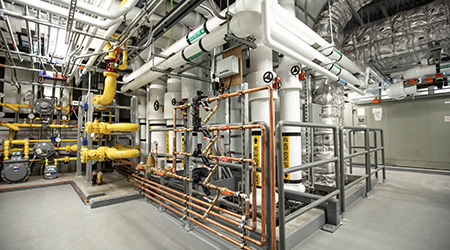 4 HVAC Strategies to Still Protect Against COVID-19
By following these ASHRAE approaches for HVAC systems, facilities can best fight the continuing pandemic.
Building owners and facility managers are looking to respected sources for guidance on protocols and approaches to improve the operation and effectiveness of their heating, ventilation, and air-conditioning (HVAC) systems to mitigate transmission of the COVID-19 virus and its variants.
As we have learned collectively during the pandemic, the virus can dwell in ambient air, suspended in aerosols exhaled by infected people. Understanding this mode of transmission has affected recommendations made by knowledgeable bodies to building operators.
One such organization, the American Society of Heating, Refrigerating, and Air-Conditioning Engineers (ASHRAE) — the leading worldwide technical society dealing with HVAC issues — has prepared detailed guidance to assist in identifying and addressing any issues with HVAC systems related to viral transmission. ASHRAE prepared its recommendations for all major building types, and these provide concrete guidelines and direction to manage air quality and improve ventilation in offices, schools, places of worship or assembly, and other spaces where large groups may gather. These recommendations have been adopted by other influential organizations that influence the built environment, such as the Centers for Disease Control and Prevention, the United States Green Building Council, and the U.S. Environmental Protection Agency.
COVID changes
Things have changed for people who have not been physically in their workplace since the beginning of the pandemic. Building occupants may have to perform a self-assessment before entering the building, either filling out a form or submitting their status via a smartphone app.
Occupants may have to go through a checkpoint where temperature is recorded, and contact information is taken in case of accidental exposure to the virus. Upon entering, people will see hand sanitizing stations distributed through the workplace and possibly floor markers to ensure social distancing. Transparent partitions will shield reception desks, coffee stations, areas at the photocopier, or even separating workstations. Cleaning staff may periodically work through spaces to ensure surfaces are sanitized multiple times per day. These physical changes to the workplace are one means by which the building operators can address the risk of COVID-19 infection with the occupants.
But what are the other health precautions being implemented? Behind the scenes, building HVAC systems are working to clean the air we breathe every day.
Ensuring cleaner air
Air in buildings is typically moved through the spaces using large electric fan units known as air handlers. In most buildings, the air handlers draw a percentage of fresh air from the outside, mix it with ambient air from within the building, and then heat or cool it, as well as dehumidify it or add humidity depending on the location and time of year.
Part of the air handling process involves passing the air through filters, which remove dust, soot, or any other airborne contaminants. This treated air is then delivered to the occupied spaces where we work. Air handling equipment and the associated air distribution systems (the ductwork) are costly and relatively fixed. They are not easily modified in most buildings. This presents a challenge to our efforts to improve the quality of the air in a building to minimize the potential for COVID-19 transmission.
Air handlers are effective at moving air throughout a building, including airborne aerosols that can contain the virus. So, the focus is how to modify or operate this equipment to minimize transmission. ASHRAE recommends four approaches:
1. Dilution. One way to minimize the quantity of COVID aerosols in a space is to dilute the air. Much like a smoke-filled room, a "cloud" of COVID-19 aerosols can be thinned out by providing fresh air into the room. The fresher the air, the better. So, building operators are directed to look at maximizing the amount of fresh air being brought into their buildings. This approach is not without its challenges. In locations that typically have hot and humid summers or cold and dry winters, the HVAC equipment may not have the heating or cooling capacities to operate with these greater quantities of untreated air. Thus, we need to look to other options to improve air quality.
2. Filtration. Facility managers are also directed to review the filtration in their air handlers. Typical filtration is not highly effective and is meant to minimize the distribution of relatively large particulates, like dust or dander. COVID-19 virus aerosols are extremely small and will pass through most standard air filters in a building. ASHRAE recommends using filter types that are intended to capture extremely fine particles. COVID-19 poses a particular challenge for filtration in that there few effective options to protect against the size of the virus and the aerosols they travel on. This means that the preferred filtration is costly and in short supply. Additionally, these filters force the air handlers to work harder and as a result may affect proper air circulation within the building.
3. Occupant-based solutions. Given that the fixed HVAC systems have relatively tight constraints, operators are looking to modify the behavior of the people in the workplace. Rather than necessarily increasing fresh air being brought in the building they request that occupants use a specific space for a maximum period of time and allow breaks between the next usage to let the HVAC systems purge that space and make it clean for the next gathering. While this affects the time a space may be used throughout the day, it allows for a cost-effective solution which is equivalent to dilution.
4. Portable filtration units. Another effective solution is the introduction of portable filtration units in the occupied spaces. These units rapidly pass the ambient air through hospital-grade air filters knows as HEPA filters and scrub the air of any contaminants in high volume, much greater than air handlers are capable of processing. Because they only filter and do not treat the air, they can be small, relatively inexpensive, movable, and adaptable to most configurations of the workplace. These units continuously pass the air through the filters and scrub out anything not desired in the air within a given room and can even be placed at a workstation to provide specific protection for an individual. Some units are equipped with ultraviolet lights or ionization units to add additional anti-biological treatment to the air passing through.
Building operators have been able to adapt to the circumstances of the pandemic and, with the help of recommendations from respected organizations, have implemented what appear to be effective solutions.
Russell Lavitt is the Buildings Mechanical Team Lead for Stantec's Manitoba and Northwest Ontario region in Canada. A licensed professional mechanical engineer, he is an expert in complex and multi-faceted mechanical design, sustainability, and energy efficient building technologies.
---
---
---
Related Topics: