« Back to Facilities Management Health Care Facilities Category Home
Modular Approach Can Help Healthcare Facilities Meet Changing Needs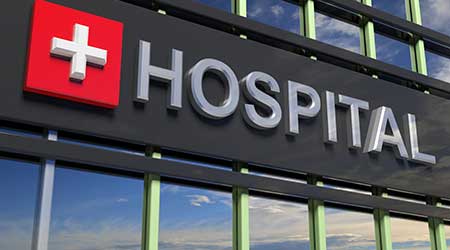 September 19, 2018 - Health Care Facilities
By Chris Perruna
A pre-engineered, modular construction approach, in which all components can be designed, built, disassembled, moved, and reconfigured quickly without delay or design constraints, has the capability to adapt to any healthcare facility's evolving needs. From primary care facilities to isolation units, all spaces can benefit from the cost reduction and flexibility that this approach provides. Made-to-measure components satisfy the unique needs of the industry, and guarantee that the space looks, feels and functions as desired — even as those needs and desires shift over time with industry standards.
In today's marketplace, it's hard to miss the fact that the healthcare industry is changing. Budgets are shrinking and timelines are shortening while costs are going up and patient expectations are on the rise. A solution to many of these challenges is found within better, smarter healthcare facilities that serve patients as well as their medical providers according to today's high-tech standards. But to achieve this solution, we need a better, smarter way to design and build those facilities.
Developing healthcare spaces is often as challenging as the many systems and technologies running within them. Aging facilities represent an even greater challenge since they often require updates while being occupied by patients and staff. Making matters more difficult are rising construction costs, which are often one of the biggest factors impacting healthcare design and construction.
Healthcare spaces are often very specialized and highly technical, making their construction more labor-intensive than other property types. Combine this with the pressure to contain expenditures, and property owners and developers are forced to rethink traditional construction methods. Fortunately, there is a more cost-effective way to design, build, and upgrade healthcare facilities.
Another major benefit of modular construction is that it ensures healthcare environments are operational with little interruption during renovations. Prefab healthcare solutions reduce downtime in construction, because they are custom fit to a facility's interior before arriving.
In some cases, this can mean as little as two to three weeks in design, build, or renovation time, so patients have access to needed treatments quicker than in typical projects using conventional construction materials.
Removing the need for sheetrock installations, for example, is one benefit of modular design. It dramatically reduces dust and minimizes impact on indoor air quality. The value of this cannot be understated when considering the health concerns of patients, and the highly sensitive and specialized equipment being used in these environments.
As with any workspace, it's important to evaluate closely the kind of work being done within a space, and who's doing that work, to ensure that it's designed appropriately. Among healthcare professionals, there is an increased need for collaboration and spaces that better facilitate it. Simply put, improved collaboration, interaction, and coordination between healthcare providers leads to better health outcomes for patients. Effective communication and collaboration requires a variety of flexible spaces — large group conference rooms, small team huddle rooms, open cafes and lounges — all of which modular construction can facilitate. Hospitals and healthcare centers are no different than other organizations that need to accommodate how people work today and build spaces that maximize productivity.
Because a modular system is designed to be flexible, it can also promote efficiency. For healthcare facilities, providing the best care to patients in the most effective way possible is priority one. Modular implementations remove inefficient spatial and technology constraints found in many older facilities as soon as they're installed, but they also have the ability to be adjusted and updated as needs evolve, so they remain efficient over time.
Patients are the priority in the healthcare world, but it's important that facilities also cater to the needs of the staff who work there. When healthcare employees are uncomfortable in their surroundings, patient care will suffer. Designing a flexible healthcare space using seamlessly integrated architecture, furniture, and technology as well as the right aesthetics can go a long way in transforming a specialized environment into a functional, comfortable, engaging place to work.
Consider, too, how a facility's finishes — the way it looks and feels to patients — also has a profound impact on healthcare delivery. Applying color schemes, textures, and imagery to engage all the senses can boost both patient and staff morale and can create a unique environment that feels friendly and welcoming instead of clinical.
From a project management perspective, modular construction also has the advantages of being more easily tracked and controlled at every step. All aspects of modular, from design and pricing to specifying, manufacturing, and installation, can be managed through software platforms and other technologies, giving project leads as well as their clients deep visibility into the entire build from start to finish.
Most developers spend approximately 30 percent of their budget on materials and 70 percent on labor. Modular construction flips this formula, where 30 percent is spent on labor and 70 percent goes toward custom materials and design. The overall result is a higher quality product and a highly functional healthcare space that more easily evolves over time.
Healthcare executives often delay the modernization of their facilities due to the high costs associated with design and construction, but they overlook the opportunity to follow a more modern approach. Modular design and prefabricated construction are proven strategies, on any budget. The money saved through a modular approach can be reallocated to purchasing new and better equipment, paying for medical supplies, increasing staff, and many other things that help improve patient experiences. Providing the best care and service is not easy in an ever-changing industry like healthcare. Modular construction offers a seamless approach that makes a space functional on day one, and flexible for all the days that follow.
Chris Perruna is the vice president of architectural and modular construction solutions at dancker and has over 20 years experience as a project manager, architect, owner's representative, and business developer.
posted on 9/19/2018