Hot-Button Issue: Mats Melt Snow, Avert Slips and Falls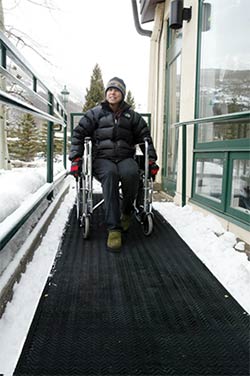 With more than 650 people with developmental disabilities to care for, the East End Disability Associates (EEDA) on Eastern Long Island need a slip-free environment during the snowy winter months.
April 1, 2013 - Health Care Facilities
East End Disability Associates (EEDA) cares for people with developmental disabilities on Eastern Long Island in New York. The organization also provides housing, educational, medical, and recreational services to more than 650 disabled people.
With so many individuals to care for, maintaining a slip-free environment during the snowy winter months can be a challenge.
"We have several ramps on our properties, and they become extremely dangerous when snow melts and freezes over them," says Vicki Johnson, EEDA's purchasing manager. "We get a lot of snow in this area, and our residents and staff have to be very careful to avoid slips and falls."
In the past, EEDA's staff used chemicals and salt to melt snow. But the messy slush was tracked indoors and created slippery conditions inside the buildings. The salt also started to deteriorate exterior surfaces, and repairs started to cut into the organization's bottom line.
HeatTrak snow-melting mats have a non-slip pattern that provides an additional level of traction and accident prevention, protecting individuals from avoidable injuries, and protecting facilities from the high costs associated with them.
As a result, Johnson turned to HeatTrak as an alternative solution to ice and snow removal. After reviewing needs and layout options, EEDA purchased four mats, including three custom-sized to fit the building's configurations. They also installed HeatTrak's DS-2B temperature-snow sensor controller, which automatically operates the mats when there is a snow or freeze and makes it easier to keep surfaces clear.
Slip-and-fall accidents can be extremely devastating and costly. Falls are the leading cause of accidental injury. One slip-and-fall accident can cost a facility up to $22,000, according to the National Safety Council.
"We haven't had any incidents of slips or falls, which is obviously the most important thing," Johnson says. "Our staff is also very happy that they no longer have to go out in the middle of the night after a snowstorm to start shoveling. I would recommend HeatTrak to anyone."
---
Comments