Sustainable Healthcare Case Study: Resilience Complements Sustainability
The VA Medical Center in New Orleans, La., incorporates green roofs, an efficient central plant, and several resilience measures.
OTHER PARTS OF THIS ARTICLE
Pt. 1:
Sustainability Transforms Healthcare Facilities' Design, Construction, and Operations
Pt. 2:
Benefits of Sustainability in Healthcare Facilities
Pt. 3: This Page
Pt. 4:
SIDEBAR: Water Efficiency Measures at Project Legacy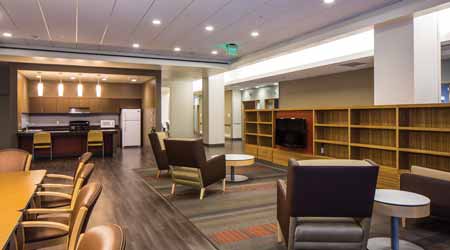 Clark Construction Group
The Veterans Medical Center in New Orleans, La. — or Project Legacy, as this $995 million, 1.6 million square-foot medical center is called — began accepting patients in December 2016 and will open in phases throughout 2017. This facility sets new standards for the VA's patient-centered care, in a facility that honors veterans' service and reflects the culture of New Orleans. The campus includes 200 inpatient beds, 370 outpatient exam rooms, 21 procedural suites, ambulatory clinics, emergency and imaging departments, mental health services, patient education facilities, transitional living and outpatient rehabilitation, parking garages, a central energy plant, and a research building.
The new complex replaces the old VA hospital, which suffered extensive damage during Hurricane Katrina in 2005. Buildings have been constructed in a unique "upside down," disaster-resilient fashion that places all essential infrastructure, facilities and services at an elevated level. A 1,200-foot-long pedestrian concourse runs along the campus on the fourth floor and provides access to all buildings in the event of a flood. The ambulance dock was constructed at an elevation of 19 feet and can double as a boat dock in the event of a major flood. The campus also features its own power station and an infrastructure to serve 1,000 patients for at least five days in the event of a disaster.
Sustainability and resilience
Sustainability plays a key role in Project Legacy, which is being considered for LEED Silver certification. Buildings incorporate green roofs and cool roof technologies. The design also makes the most of daylighting, features high-performance glazing, and uses a combination of shading devices.
The central plant incorporates many green features. For example, water for the cooling towers is supplied, in part, from rainwater collected and stored onsite, protecting natural resources and helping reduce utility costs. This is done through the rooftops that are connected to a one-million-gallon rainwater storage tank.
The exteriors of the medical center buildings are clad in a glass and steel curtainwall that enables natural light to infuse the interiors of the facility. Constant connections to the outdoors are among the sustainable features included in the hospital's design.
Sustainability and resilience often complement each other: A building that uses less energy by employing passive strategies may also be more resilient in times when no utility power is available. According to Urban Land Institute, "'Resiliency thinking' requires us to think not only about bouncing back from environmental, economic, and social crises, but adapting to changing circumstances by 'bouncing forward' through new paradigms, processes, and ways of working."
Storm preparedness
This facility is designed to set a new benchmark for storm preparedness. In the event of flooding, patient rooms, the power plant, and even the kitchen would remain dry and operational. The design of the emergency dock to double as a boat dock for receiving patients and supplies is one response to lessons learned during Katrina. Additionally,
• Each of the 200 private rooms has enough power outlets and medical-gas provisions to go double-occupancy if needed;
• The emergency department is located on the second floor and at least 21 feet above base flood elevation;
• The exterior of the building is hardened to withstand projectiles caused by high winds.
Everyone involved in the design and construction applied lessons learned from Hurricane Katrina to create a resilient hospital infrastructure with an efficient, patient-centered design that will serve up to 70,000 veterans from throughout the region. The new VA medical center is a model for not only the healthcare of the future, but also for resilience in an emergency.
Barbara Wagner is senior vice president with Clark Construction Group — California, based in Irvine, Calif. Wagner has more than 28 years of experience in the construction industry working for Clark. She has extensive experience in design-build, healthcare, and sustainable markets. She may be reached at barbara.wagner@clarkconstruction.com.
Email comments and questions to edward.sullivan@tradepress.com.
Continue Reading:

Healthcare and Sustainability

Sustainability Transforms Healthcare Facilities' Design, Construction, and Operations

Benefits of Sustainability in Healthcare Facilities

Sustainable Healthcare Case Study: Resilience Complements Sustainability

SIDEBAR: Water Efficiency Measures at Project Legacy
---
---
---
Related Topics:
Comments