You Might Like
On FacilitiesNet
Sustainability Transforms Healthcare Facilities' Design, Construction, and Operations
Sustainability is inextricably linked with the future of healthcare facilities. In part, that's because studies show better buildings help patients heal faster.
OTHER PARTS OF THIS ARTICLE
Pt. 1: This Page
Pt. 2:
Benefits of Sustainability in Healthcare Facilities
Pt. 3:
Sustainable Healthcare Case Study: Resilience Complements Sustainability
Pt. 4:
SIDEBAR: Water Efficiency Measures at Project Legacy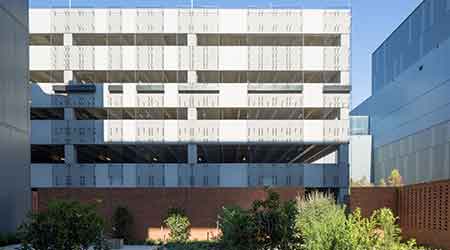 Clark Construction Group
Sustainable green building practices are transforming healthcare facilities' design, construction, and operations. These practices will not only save money during the life of most healthcare facilities, they will also make spaces more effective for healing. Many in the industry would even say that sustainability is a moral obligation. For this reason, sustainable practices should be adopted as standard operating procedure now and into the future. As more hospitals demonstrate that sustainable architecture benefits the healing of the patients, a general acceptance of new hospital design will follow.
Studies have shown that the environment that people create has profound impacts on the human psyche. Sustainable design and construction is the practice of creating structures and using processes that are environmentally responsible and resource-efficient throughout the life-cycle of a building — from selecting the site to design, construction, operation, maintenance, renovation, and finally, deconstruction.
The practice of sustainable building requires an integrated approach to planning, design, construction, operations, and maintenance. This means a team-oriented commitment that influences decision-making in every phase of a project. Sustainable building goes beyond simple return-on-investment analysis of the first costs of specific improvements; rather, it evaluates an improvement over its entire life cycle, including first costs and subsequent operations, maintenance, and disposal costs.
The cost of building green is becoming easier to justify, not only when viewed from a perspective of reduced building operating expenses but also when green buildings support healthcare objectives. Therefore, sustainable design is good for the environment and good for business.
The ASHE Green Building Committee developed a construction guidance statement to answer the question of what sustainable design and construction means in the context of a healthcare facility. Planning for a construction project offers healthcare organizations an opportunity to formulate overall sustainable building goals, if these are not already in place. These goals can include such actions as using sustainable materials in a renovation project or adding more green space around the facility, for example.
Several states, counties, and municipalities have implemented financial incentives, expedited permitting programs, and instituted regulations to promote sustainable design and construction. For a searchable, up-to-date listing, visit the Database of State Incentives for Renewables and Efficiency (DSIRE).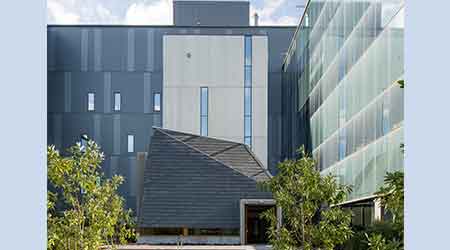 The new VA hospital in New Orleans replaces an existing structure that was damaged badly in Hurricane Katrina.
Continue Reading:

Healthcare and Sustainability

Sustainability Transforms Healthcare Facilities' Design, Construction, and Operations

Benefits of Sustainability in Healthcare Facilities

Sustainable Healthcare Case Study: Resilience Complements Sustainability

SIDEBAR: Water Efficiency Measures at Project Legacy
---
---
---
Related Topics:
Comments