Shifting Strategies at the VA Help Handle Coronavirus Cases
The largest healthcare provider in the U.S., the Department of Veteran Affairs, has made several changes both to design and policy to better care for COVID-19 patients and their families.
OTHER PARTS OF THIS ARTICLE
Pt. 1:
How the Pandemic is Changing Healthcare Design
Pt. 2: This Page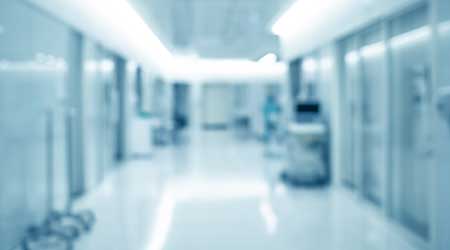 The Department of Veteran Affairs (VA) is the largest healthcare provider in the U.S. According to the VA, there are more than 9.2 million patients currently enrolled in VA health care. During the pandemic, the VA has tested nearly 660,000 veterans and employees for COVID-19 and close to 11,000 of those who contracted the illness have been admitted into VA facilities. The VA diagnosed just over 56,000 veterans as having COVID-19.
As the nation's largest healthcare provider, many leaders and facilities around the country look to the VA for guidance. Most changes in standards and practices made by the VA will not happen for another two to three years while research is still being performed on what should change.
One change that is being made in VA hospitals is converting multi-patient rooms into single patient rooms. Private rooms have been the trend in hospital planning and design for many years, and VA hospitals will likely accelerate their move in this direction in that direction as well. Some of the advantages of single-patient rooms are that there is a reduction in the risk of cross infection and more flexibility in the operation of the room.
The design and functionality affect not only patients and their families, but hospital staff and administration as well. Besides providing the patient well-being and comfort, a properly designed hospital room can also lead to saving the administration money through the strategic use of materials and proper space allocation.
For example, consider putting racks outside patients' rooms for physicians. Something as simple as a hook outside each patient room door could eliminate transfer of any germs from lab coats. There is also a need for more flat surfaces. This could be something to pull down for administering medicine and can help avoid clutter from items such as meal trays.
No pressure
The VA is also planning on increasing the amount of negative pressure rooms. A negative pressure room uses lower air pressure to allow outside air into the segregated environment. This pressure traps and keeps potentially harmful particles within the room by preventing internal air from leaving the space. Negative pressure rooms in hospitals and other facilities isolate patients with infectious conditions and protect people outside the room from exposure.
Negative pressure rooms have been a popular solution with infection control efforts, including with COVID-19. Hospitals use them in patient rooms to ensure infectious germs don't spread throughout the facility via the HVAC system. However, the need for such rooms can put extreme stress on hospitals because they are not always ready to handle influxes of infected patients, especially from this pandemic. Many hospitals are not equipped to handle high volumes of patients requiring them, which is why the VA sees a need to increase the amount that they currently have. They also cost more and have more HVAC controls requirements.
Other areas of a hospital that are usually designed as negative pressure areas include waiting rooms, bathrooms, laundry areas and autopsy rooms.
Adding to intensive care
Due to the need for Intensive Care Unit (ICU) and isolation room capacity that will be needed, VA hospitals will also increase the number of beds in these areas. A study published in 2020 by JAMA Network Open estimated that some U.S. cities could need as many as 4.4 ICU beds per 10,000 adults. The U.S. currently has approximately 2.8 ICU beds per 10,000 adults.
According to a study from the Perelman School of Medicine at the University of Pennsylvania, more than one third of American communities had zero ICU beds. 49 percent of the lowest-income communities had no ICU beds in their communities, compared to only 3 percent of the highest income areas.
It is crucial to fix this issue because ICU provides life support for patients with serious, life-threatening illnesses. These people require continuous care and monitoring. Patients who are unable to breathe on their own due to COVID-19 need the ventilator support offered by an ICU in order to survive. Having access to an ICU is the difference between life and death for many patients, which is why more beds and access to these rooms is necessary.
Whenever this pandemic will end is not certain, but healthcare design will be changed forever. Architects and designers will need to focus on creating healthcare spaces that enforce social distancing and cleanliness. Touchless technology will continue to be developed by manufacturers and utilized by hospital staff. Waiting rooms will likely remain underused to keep patients safe with cell phone technology helping staff members keep wait time in the office minimal for patients, plus with the growing use of telemedicine. More negative pressure rooms and beds will be built and installed to help those battling COVID-19 and other infectious diseases.
Areas for further design consideration in the future are the storage of PPE supplies at the places they are needed in and around patients' rooms. It is also important to understand the actual steps a caregiver must go through to gown and ungown properly to prevent the transfer of infections from patient to patient, while doing their jobs and staying focused on the patient care first and foremost.
COVID-19 has reminded everyone that the design of efficient and effective treatment space in support of healthcare is an ever-changing landscape. This is only the tip of the iceberg for changes that should be coming down the line for healthcare design.
Ron Reim, AIA, NCARB, is the executive vice president and co-founder of Oculus Inc. As a licensed Ron Reim, AIA, NCARB, is the executive vice president and co-founder of Oculus Inc. As a licensed architect with more than 35 years of experience, he has worked on a broad range of project types for public and private clients, including the design and planning of major hospitals—both private and government.
Ali Summerford, NCIDQ, RID, LEED ID&C, EDAC, is the interior design director at Oculus Inc. She has more than 20 years of interior design experience with an emphasis in management, client relations, specifications, space planning and design presentations, among other areas. She has also worked for a major private healthcare provider.
Continue Reading:

Healthcare Design

How the Pandemic is Changing Healthcare Design

Shifting Strategies at the VA Help Handle Coronavirus Cases
---
---
---
Related Topics:
Comments