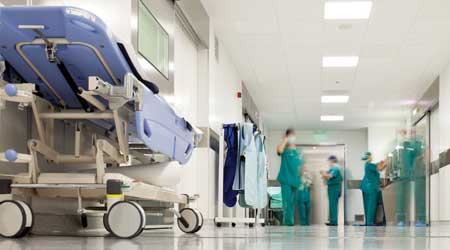 Planning Plumbing in New Healthcare Facilities
With savvy planning, managers can ensures the success of maintenance and upgrades of HVAC, plumbing and lighting systems
One of the major challenges in planning plumbing retrofits in healthcare facilities is the impact of waste system changes on the floor below the project, which often require removing or relocating people and scheduling difficult phasing work to minimize disruption. Effective master planning of adjacent spaces above and below through a building can address this challenge.
Hospital departments and functions often think of adjacency horizontally, not vertically. Smarter waste systems, such as vacuum waste systems, can eliminate the need for vertical planning. These systems limit renovation-related departmental disruptions, so their use in master planning can reduce renovation costs.
A similar rationale applies to planning redundancy in plumbing systems. Pumps, air compressors, and vacuum pumps require frequent maintenance and replacement, so when designers compartmentalize these systems for component replacement and provide separate power sources, the result is greater resiliency.
Also critical to successful master planning for plumbing system maintenance is the presence of service valves. Codes often do not require these valves, which become critical for future implementation and maintenance changes. They also serve a vital function for emergency shutoff during breaks or temporary issues with the plumbing systems.
Executing the NFPA-minimum locations for shutoff valves will result in service valves at the mains and branches, as well as zone-valve boxes in corridor walls at each department and anesthetizing room. Installing service valves to allow isolation of all gases to each patient room or pair of patient rooms can greatly reduce operational disruptions.
This tactic also greatly reduces the cost of hiring a service to back-feed gases to patients during shutdowns and minimizes the extent of system recertification. Incorporating service valves with purge ports can minimize the recertification scope after repairs or renovations. Incorporating service valves in the ceiling above zone-valve boxes also can mitigate shutdowns of entire floors during modifications or relocations of a valve box.
Master planning to address plumbing system maintenance and upgrades also should:
• Provide an empty-chair or temporary transitional space for future equipment in the mechanical room. This tactic allows installation of new equipment to replace old equipment. When the new equipment goes into service, technicians can remove the old equipment to create the next empty chair. If storage can be co-located with mechanical spaces, it can function as future empty-chair space.
• Employ a commissioning agent to review MEP system designs and specifications so valves and drain points, among other components, are properly incorporated into the design, easing future troubleshooting and commissioning.
• Ensure project designers understand water management plans per ASHRAE 188, including properly future-proofing designs.
Continue Reading:

Planning Healthcare Facilities for the Future

Planning Plumbing in New Healthcare Facilities

Planning Lighting in New Healthcare Facilities
---
---
---
Related Topics: