Planning Lighting in New Healthcare Facilities
With savvy planning, managers can ensure the success of maintenance and upgrades of HVAC, plumbing and lighting systems
OTHER PARTS OF THIS ARTICLE
Pt. 1:
Planning Healthcare Facilities for the Future
Pt. 2:
Planning Plumbing in New Healthcare Facilities
Pt. 3: This Page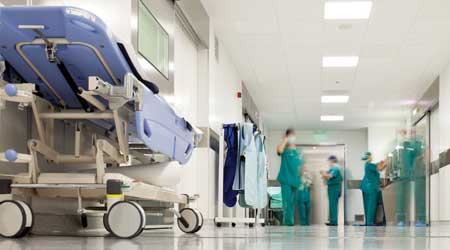 Wireless lighting controls and tunable systems now are easier to incorporate into new and existing buildings. That said, a few simple steps can save time, energy, and maintenance. Perhaps most critical to lighting system master planning is the development of lighting standards and guidelines.
The lighting industry has seen immense changes with the widespread adoption of LED sources. For years, manufacturers focused on the efficacy of LEDs. As efficacy has continued to increase and lighting loads in buildings decrease, manufacturers have focused on lighting quality.
This push has led to new metrics and the ability to manipulate light sources to better serve patients, staff and visitors. Since LEDs are small semiconductors, advances in lighting controls also continue to offer greater flexibility and programming options related to energy efficiency and use.
Lighting standards should include performance metrics for specific areas. These standards should reference Industry standards, including those developed by the Illuminating Engineering Society of North America, such as the Recommended Practice (RP-29) Lighting for Hospitals and Healthcare Facilities. Lighting standards and master planning documents also must be dynamic and evaluated annually. Energy codes have struggled to keep up with the development curve of LED lighting.
Besides addressing light levels, lighting standards should include components affecting the quality of light, such as color rendering index (CRI), correlated color temperature, and kelvin temperature.
Advances in research and technology also have catalyzed a new lighting standard, IES TM-30, Method for Evaluating Light Source Color Rendition, which is intended to more effectively evaluate a light source's color-rendering properties. Among other improvements in color evaluation, TM-30 is more comprehensive factors 99 color attributes.
The new TM-30 includes the R9 value, commonly referred to as the red content or vibrant quality of light sources. LEDs and fluorescent sources have performed poorly in this portion of light quality, but this component and other rendering qualities are critical in lighting healthcare facilities. This is obviously important for surgery suites and exam rooms. Recommendations of a minimum R9 value of 60 and minimum CRI value of 90 for all rooms are best practices and should be the quality level of lighting for all spaces.
While wireless controls are the wave of the future, connecting main control panels and electrical rooms with conduits provide the most reliable form of continuity. When designing new buildings or when the opportunity presents itself, technicians should install conduit sleeves from electrical rooms to building exteriors. Installing two 2-inch conduits from electrical rooms to the exterior of each façade is an inexpensive way to ensure future flexibility for lighting and electrical systems.
Lighting controls systems are quickly becoming the most critical components in lighting infrastructure. A variety of control systems exist that can likely accomplish the control needs of healthcare facilities. Managers also need to research manufacturer qualities and capabilities because the success of the control system depends on the service from the provider.
Master planning for lighting systems requires new conversations about lighting and maintenance. Many managers ask what they will do when LED sources fail. In reality, managers likely will replace these sources to achieve additional energy savings, not due to failure. The conversation should focus on ways to prepare and align with future technologies.
Brian Hans, P.E., LEED AP, is a senior mechanical engineer for Mazzetti — www.mazzetti.com — who specializes in appropriately innovative, high-performance design. Brian Hageman, LEED AP leads the firm's plumbing discipline, specializing in medical gas systems, treated water systems, water and energy conservation, infection control, and risk management. Brennan Schumacher, LEED AP, leads the firm's lighting design studio providing sustainable, integrated lighting design solutions, improving occupant health and enhancing architectural collaboration.
Continue Reading:

Planning Healthcare Facilities for the Future

Planning Plumbing in New Healthcare Facilities

Planning Lighting in New Healthcare Facilities
---
---
---
Related Topics:
Comments