Modular Construction: Despite Benefits, Healthcare Adoption Is Slow
Many building owners don't understand how modular construction can save time and money.
OTHER PARTS OF THIS ARTICLE
Pt. 1: This Page
Pt. 2:
How Modular Healthcare Facilities Aided Pandemic Response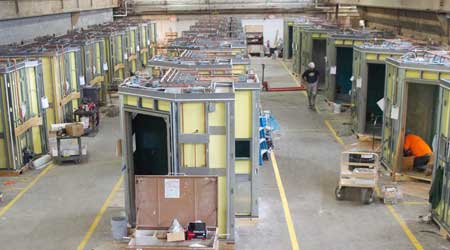 Modular construction for hospitals and other healthcare applications is a design concept that's been discussed at great length but has never seen large-scale implementation in the healthcare market. The fact is that modular hospital construction dates back to 1855, when prefabricated building sections were used to design and construct a British Army hospital in the Crimean War. Modular construction is typically advertised to be quicker, easier, and cheaper than traditional construction, while providing a facility with the same level of quality as traditional construction methods. If that is the case, why hasn't the healthcare industry seen more use of this method?
It's worthwhile for building owners to consider the benefits of modular construction, especially given the current environment with the COVID-19 pandemic. But it's also important to understand the challenges that modular construction still faces in the construction industry and with building owners.
What is modular construction?
The Modular Building Institute, an international trade association with the mission "to expand the use of offsite construction," defines modular construction as a "process in which a building is constructed off-site, under controlled plant conditions, using the same materials and designing to the same codes and standards as conventionally built facilities."
Portions of the building are constructed in a manufacturing-style environment, similar to what is done for cars, airplanes, or other large machinery, and then moved to the project site for installation. The materials and methodologies used are the same as typical on-site construction and are consistent with current building codes and standards, just applied with a different approach in a controlled environment.
The Modular Building Institute promotes modular construction to be greener, faster, and smarter than traditional construction methods. For healthcare construction, the benefits touted are cost savings, reduction in overall construction schedule, and better design and construction through the use of technologies such as Building Information Modeling (BIM). Recent studies and industry analysis support these claims, but also present challenges to its implementation in the healthcare industry.
Modular construction benefits
In terms of capital projects, modular construction allows building owners to shorten construction schedules and reduce costs. Patient bathrooms, exam rooms, single-toilet rooms, and patient-overhead utilities can all be prefabricated, off site, and then brought to the project site for installation. Even something as simple as a patient headwall can be prefabricated off-site and then brought to the construction site for installation in an effort to reduce project costs.
Each component follows the same assembly plan with the same materials used in typical hospital construction and then is inspected utilizing a quality control program before it leaves to be installed on the project site. This manufacturing-style process ensures quality, helps to reduce the amount of wasted material, and improves project safety.
This also helps to reduce the overall project schedule. The prefabrication process can occur while activities such as site, foundation, and structural work are in progress. Once complete, the prefabricated building comments are then shipped and installed on site. This allows for a much shorter overall construction time and also helps reduce the need for onsite coordination between trades.
Architects, engineers, and contractors report improved productivity, improved quality, increased schedule certainty, improved cost predictability, reduced construction waste, improvements in client satisfaction, and improved safety, according to Dodge Data & Analytics. All of these equate to overall project cost savings for the owner.
Because each component is constructed using the same design, the on-site coordination process is removed from the portions of the buildings that will be prefabricated. For these components, trades can coordinate off-site, during the pre-fabrication process. Utilizing BIM allows trades to streamline the pre-fabrication process and create a repeatable, easy to construct design.
A full BIM model can be created for each prefabricated module that will be constructed off site. Trades can fully coordinate their installation as part of the BIM process. This can be done to streamline the manufacturing of each component. The time and effort that trades typically spend coordinating installations in the field is removed, improving the overall project schedule and therefore saving building owners money. These BIM models can then be coordinated with conditions in the field when the prefabricated components are installed on site and connected to building systems. They benefit the building owner for operations and maintenance as well as future renovation projects.
The proper use of BIM gives building owners a greater understanding of how the facility is constructed. Because the prefabricated sections are all constructed the same way, the maintenance burden on hospital staff should also be reduced. Maintenance personnel should no longer need to search for valves or junction boxes while working with the prefabricated building sections. Through BIM, component locations should be noted and easily accessible, reducing time and effort. This is especially helpful during emergencies, when staff needs to move quickly and effectively with little time to waste. Future renovations should also be easier given effective use of BIM, as building owners will have detailed layouts of prefabricated and modular areas. This gives architects and engineers a better understanding of existing building conditions, allowing for better designs, and reducing the risk of contractor change orders due to field conditions being different from what existing conditions documents may show.
Recent market data from Dodge Data & Analytics shows that the use of BIM on prefabricated and modular construction projects improved schedule performance by 60 percent and budget performance by 50 percent for companies where at least half of more of their projects utilized BIM. This is a significant improvement that can benefit building owners, especially in the healthcare industry where construction costs are relatively high compared to other markets.
Continue Reading:

Healthcare Facilities

Modular Construction: Despite Benefits, Healthcare Adoption Is Slow

How Modular Healthcare Facilities Aided Pandemic Response
---
---
---
Related Topics:
Comments