You Might Like
On FacilitiesNet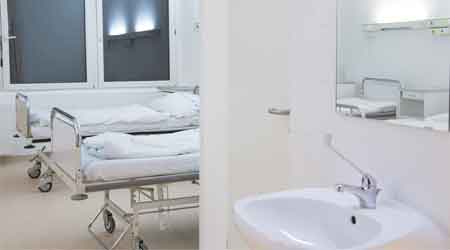 Location of Patient Restrooms Has Pros and Cons
Last part of a 3-part article on current issues in healthcare restrooms, including patient mix, aesthetics, and cleanliness
In most healthcare facilities, patient restrooms can be located either along the interior wall (inboard) or the exterior wall (outboard.) Each choice has pros and cons.

A location along the interior wall typically leaves the exterior wall free for visitors, and possibly windows. That can bring light and views of the outside into the room. "The connection to views of nature has really been proven to be very advantageous to patient well-being," Hooper says. The access to daylight also can cut the need for electric lighting, thus saving energy, she adds. Finally, an inboard location allows a bit more patient privacy.

The downside? It reduces nurses' ability to see patients who need assistance, Costello says. For this reason, outboard locations are almost always used in intensive care units, he adds.

In some facilities, there's also the question of whether the restroom should be located nearer the head or the foot of the patient bed. When it's at the head, the patient typically can better visualize where he or she needs to go, and often has less distance to travel. Both of these factors can reduce the risk of falls, Tetrault says. Crouse uses this location when possible.

The size of patient restrooms is another area being rethought. While the typical door opening is 36 inches, this can be tight for patients who need assistance or are in wheelchairs, Williams notes.

In addition, as the American population grows larger, hospital restrooms have to accommodate their increasing girth. Some hospitals are dedicating full bariatric units, while others are placing bariatric rooms on otherwise standard medical/surgical floors, Costello says.

In addition to their larger sizes — the floor area tends to be about 20 percent bigger, Costello says — restrooms designed for bariatric patients include some other differences. The grab bars and sinks may need steel reinforcements, he says. And they'll often use floor, rather than wall-mounted toilets, since floor units can handle greater weights.

Moreover, some newer floor-mounted designs eliminate the hard-to-clean space behind traditional floor-mounted toilets by extending the fixture to the wall. "You clean the floor in a U-shape," Costello says.
A Hospitable Environment
Along with balancing cost, safety, and durability, many facility managers are striving to create aesthetically pleasing, welcoming environments within patient restrooms. Not only can this help patients feel better about themselves, but it may also help a healthcare facility attract other patients. "There's so much choice for consumers," says Carol Downey Fuller, senior project manager, construction, facilities, engineering and maintenance, with the University of Pittsburgh Medical Center. "Consumers can evaluate you based on aesthetics."

The choice of light fixtures and mirrors can play a key role here. Tetrault says Crouse Hospital is using warmer lighting — up to about 2700 Kelvin — versus the 4100 Kelvin from a "cool white" fluorescent light.

Because overhead lighting can create unflattering shadows on patients' faces, Brainerd is looking into mirrors that incorporate lighting along their sides.

Improvements in LED lighting allow for more control, Hooper notes. For instance, the lights can be set to cooler temperatures during the day and warmer ones at night.

Brainerd also tries to use slightly higher-grade finishes on some of the fixtures, like the faucets. "You want the things one touches to be a little nicer," she says.
Collaborative Design
The color used in patient restrooms also needs to do more than look nice, although a welcoming environment in itself can help patients feel better. Incorporating contrasting colors, rather than limiting the palette to shades of gray or white, can help patients better navigate the space, Williams says. "When it's one color, it's hard for people who are visually impaired. They don't get the depth of field and contrast." That can lead to bumps and injuries.

A natural color palette, such as paint in earth tones or resilient flooring designed to look like wood, also provides "a psychological connection to warmth and comfort," Hooper says.

Building patient restrooms that balance multiple objectives requires a collaborative approach. Tetrault, for instance, oversees facilities, construction, and environmental services at Crouse Hospital. Just the fact these areas report to him engenders collaboration, he says.

It's critical that any design team works with facilities, Williams says. Designers need to understand the cleaning products and methods the maintenance workers use, and also provide education on the proper cleaning for any new finishes and materials in new patient restrooms.

Talking with healthcare professionals and operations staff also helps in developing designs that enhance workflow, Hooper says. Those conversations, for example, may lead to designs that reduce the number of steps the nurses have to take, or that allow maintenance employees to do their jobs efficiently. "It's being smart about how all the pieces work together to optimize the patient experience," she says.
Karen M. Kroll, a contributing editor for Building Operating Management, is a freelance writer who has written extensively about real estate and facility issues.
Continue Reading:

Healthcare Restrooms

Healthcare Restrooms Experiment with New Designs, Approaches, Materials

Universal Design Restrooms Avoid Tripping Hazard, Bacteria Seam

Location of Patient Restrooms Has Pros and Cons
---
---
---
Related Topics: