FacilitiesNet eNewsletter
Best Information Tool For Busy FMs
We will keep you updated with trends, education, strategies, insights & benchmarks to help drive your career & project success.
Healthcare Facility Expands Before Construction Ends
Project goes from four to eight levels, meets original deadline
The past couple of decades have seen tremendous growth on the academic medical campus of Froedtert & the Medical College of Wisconsin, located just outside of Milwaukee. And expectations of continued growth meant that expansion was always in the cards for the new Center for Advance Care (CFAC) on the campus. What no one expected was how soon that expansion would come.

The new Center for Advanced Care on the academic medical campus of Froedtert & the Medical College of Wisconsin totals more than 435,000 square feet of space.
The initial plan for CFAC called for a four-story new building that could be expanded to 12 stories. The project had been given the green light in December 2012. Then, in November 2013, with construction underway, Froedtert management approached the construction team with a what-if scenario: What if the vertical expansion was started before the building was even complete? The reason for the expansion was that new projections showed growth in demand for services would exceed the original estimates. One caveat: the project — now to be an eight-story building — had to be completed by the original deadline in Fall 2015.

Even with the expanded scope, the project met its original deadline, says John Balzer, vice president of facility planning and development, Froedtert Health. Getting it done took a combination of teamwork and technology.

The new CFAC plays a crucial role on the Froedtert & & MCW campus. In addition to the nine above-grade floors, totaling more than 435,000 square feet of space, there are another 170,000 square feet of parking on three levels under the building. CFAC houses a wide variety of medical services, with a focus on patient experience. For instance, circulation corridors are located on the perimeter of floors to keep patients oriented. And underground parking means patients can drive right to the building where they will be receiving services.

Patient focus is evident on the second floor transplant center, where organ transplant patients come for follow up care. A wide variety of caregivers — including doctors, nurses, and social workers — have offices in the center, so that patients have all the resources they need in one place, says Balzer.

The third floor is another example of making life easier for patients. Services in nine locations on the campus were consolidated on the third floor, which has spaces for patient arrival, prep, and recovery. The consolidation offers a huge efficiency for Froedtert and means less confusion for patients, says Balzer.

CFAC also houses an outpatient heart and vascular center, along with a variety of clinics for specialties like oral surgery, pulmonary, and ear, nose, and throat.

To keep the CFAC project track, Froedtert facility staff worked literally side-by-side with other members of the building team. "We spent a year and a half of our lives together," says Richard Boor, director of plant operations. That collocation paid off, leading, for example, to changes in the way that the mechanical systems were designed. Early input from key trades was also crucial, says Balzer.

Energy efficiency was one goal of the collaborative design. "This whole team of people, they focused on that from Day One," says Boor. For example, the building is designed with radiant heat loops for the perimeter and interior of the floors. That strategy gives the facility staff the option of shutting off the interior loop on cool days when enough heat is available from equipment and people to keep the building comfortable.

"If you're building properly, you can turn a fair amount of things off," says Boor.

Another key to the success of the project was the use of a building information model (BIM). One way that BIM paid off was that it enabled the project team to prefabricate things like ductwork, medical gases, and headwalls. "We try to prefabricate everything we can," says Balzer. "It's not often you can get lower cost, better quality, and faster production." An integrated BIM allowed possible problems with prefabrication to be avoided.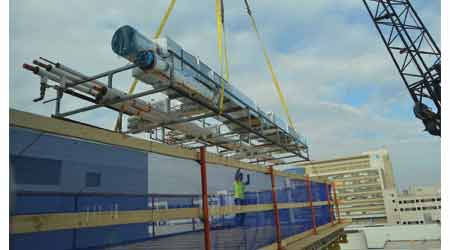 Prefabrication of ductwork helped keep the CFAC project on schedule.
Construction is now underway on the seventh and eighth floors of CFAC, which will provide space for inpatient care of bone marrow transplant and oncology patients. That space is scheduled to open in June 2016.

The third floor of CFAC will become a key part of a planned integrated surgical and interventional platform.

Currently, operating rooms are located on two floors in two buildings. Of the 29 operating rooms on campus, 13 are less than 500 square feet. The emergency power, HVAC, and other elements of the infrastructure date to the late 1970s.

The new integrated platform space, which will be created by renovating existing space on the third level of several connected buildings, will have 32 operating rooms, six cardiac catheterization labs, eight interventional suites, and CT and intraoperative MR, as well as the space that currently exists on the third level of CFAC. This phase of the project is slated for completion by 2021, according to Balzer.
---
---
Comments