Facility Manager Cost Saving/Best Practice Quick Reads RSS Feed
Birds and Buildings: A New Stadium's Challenges
June 28, 2016 - Contact FacilitiesNet Editorial Staff »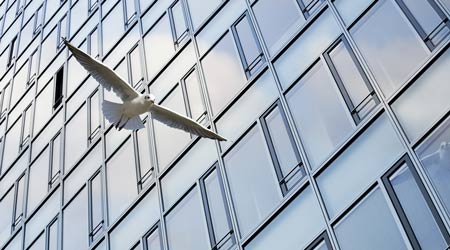 To coincide with Earth Day, the Minnesota Sports Facilities Authority (MSFA) recently released a brochure that touts the design, materials and ongoing energy costs of the new Minnesota Vikings stadium as sustainable. When the state and the Vikings commissioned HKS to design the building in 2012, "one of the earliest and clearest goals was to redefine the notion of a sustainable stadium," according to the pamphlet.

But the brochure does not mention the environmental concerns of one persistent group: bird enthusiasts who attend every MSFA meeting eager for an update on whether a bird-safe film has been developed to add to the glassy exterior of the building.

Advocates say the soaring, mirror-like glass on the building will be deadly to migratory birds in the Mississippi River flyway. Until the stadium opens, they won't be able to check the grounds for feathered fatalities.

In terms of other sustainable features, the new stadium will use less energy than its predecessor — even though it is double the size of the demolished Metrodome, according to the Minneapolis Star-Tribune.

Annually, the new building in downtown Minneapolis will use 92 kBtu per square foot. The Metrodome used 104 kBtu per square foot. That's a 16 percent drop that the team and the MSFA attribute to heat recovery systems, air handling units, ventilation and high-efficiency motors.

Due to low-flow utilities, water usage at the stadium will decrease by 37 percent, saving almost 6 million gallons a year. The lighting costs also will be cheaper by an identical percentage — because of the use of LED fixtures.

To read more, click here.

This Quick Read was submitted by Dan Hounsell, editor-in-chief of Facility Maintenance Decisions, dan.hounsell@tradepressmedia.com. Read more about sustainable bird management at https://www.facilitiesnet.com/13178FMD.
---
Comments