« Back to Facilities Management Grounds Management Category Home
Compact Equipment and Attachments Provide Solutions For Any Snow Removal Job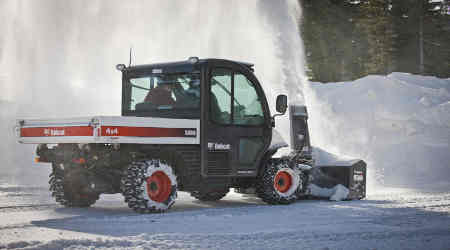 March 20, 2018 - Grounds Management
Provided by Bobcat Company
The goal of any city or county in planning for snow events is to maintain safe travel for pedestrians and vehicles. While pretreatment technologies have made significant strides in preventing precipitation from bonding to pavement, ice and snow accumulation are challenges every municipality must plan for annually. Without the proper equipment to handle the elements, even the best employees will have difficulty executing your removal plans.

Industry experts say that the key to success in the municipal snow removal business is learning to use different tools that fit the specific environments and conditions. Although trucks and large plows are designed for the hundreds and even thousands of lane miles your crews are responsible for, there are hundreds more miles of sidewalks, parking lots, skating rinks, trails, even cul-de- sacs that need to be cleaned and treated. Clearing snow and ice in these areas can become hazardous quickly as space becomes confined with snow piles, impatient motorists and distracted pedestrians. That's why many municipalities turn to compact equipment and versatile attachments to perform a variety of snow and ice removal tasks.

Skid-steer loaders Featuring the ability to turn within their own length, skid-steer loaders' maneuverability and agility make them popular for removing snow in the tightest quarters, such as crowded parking lots. They also deliver the power to perform heavy-duty work efficiently. And unlike a pickup truck with a snow blade, a skid-steer loader is not only able to push snow, but lift, pile or load it for transport.

"The lifting and loading capabilities and large number of attachment options enable the operator to remove snow more efficiently," says Chris Girodat, Bobcat Company marketing manager.

Attachments most commonly used with skid-steer loaders are the snow bucket, snowblower, angle broom, snow blade, snow pusher, snow V-blade and scraper. A snow bucket allows for skid-steer loaders to be very efficient because their high backs can help with pushing snow, and the straight sides are able to cut through piles of snow.

For further versatility, many snow removal companies opt for a snow V-blade. It can be configured five different ways — as a straight blade, V-cut blade, scoop blade and 30-degree left- or right-angle blade.

Due to time constraints, crews can't always clear jobsites before traffic drives over the freshly fallen snow. So, for snow removal jobs that require removing hard-packed snow and ice, Girodat suggests using a scraper attachment. It has a self-sharpening cutting edge that easily slides under stubborn snow and ice on pavement to produce a smooth surface.

The snowblower attachment proves ideal for blowing snow away from the area, into a pile or dump truck with a truck-loading chute. And for lighter snowfalls, attach an angle broom, which is ideal for sweeping less than 6 inches of snow. In addition to clearing snow from parking lots, sidewalks and pathways in the winter, these attachments can be used for sweeping away dirt, leaves, gravel and other debris, which makes them valuable all year-round.

Depending on the size of the jobsite and amount of snowfall, operators might spend hours upon hours in the machine, so comfort can play a role in productiveness. An enclosed cab with heat, joystick controls and suspension seat are just a few of the features and options that help make operators' jobs easier.

Toolcat utility work machines

The benefit of purchasing a Toolcat™ utility work machine is that it combines the best features of a utility vehicle, pickup truck and attachment carrier into one machine. It also features a hydrostatic drive system that provides high axle torque, simple shifting and excellent speed control. The high axle torque, coupled with four-wheel drive, delivers plenty of power for filling buckets, pulling implements and trailers and pushing material. Operators can easily shift between low and high on-the- fly and while under power, and they can change travel direction with a simple shuttle lever.

The machine's four-wheel drive and weight distribution provide the traction and pushing power needed for fast and efficient snow removal. Because it has all-wheel steering and a tighter turning radius than most ATVs, the utility work machine is often used for plowing snow in tight areas, such as crowded parking lots and in between buildings. The machine can also travel as fast as 18 mph. This improves plowing capabilities by enabling snow to roll and allowing operators to quickly go from jobsite to jobsite.

Again, operator comfort offers another reason municipalities might choose a utility work machine. Its large enclosed cab — with optional heat and air conditioning — has a suspension seat, easy-to- use controls, cruise control and tilt steering. These features all improve operator comfort, help decrease fatigue and translate into more billable hours in one outing, Girodat says.

In addition to the attachments mentioned previously, a spreader attachment can be mounted in the Toolcat utility work machine's cargo box and can be used to spread salt and sand on sidewalks and pathways. The machine's 60-inch width allows it to fit on most sidewalks and pathways, making it ideal for more municipal snow removal applications. You can blow snow into trucks using its high-flow hydraulics and a snowblower attachment with a truck-loading chute. This process works well for crowded areas where snow can't be piled.

Utility vehicles

Quickly removing light to moderate snow on sidewalks and driveways is one of the primary missions for utility vehicles. Units that have attachment capabilities help increase productivity to a new level, and some manufacturers offer snow attachments that are PTO-driven, including a snowblower or angle broom, as well as non-PTO attachments like a snow blade and bucket. Operators can control attachments all from the comfort of the operator area.
posted on 3/20/2018