FacilitiesNet eNewsletter
Best Information Tool For Busy FMs
We will keep you updated with trends, education, strategies, insights & benchmarks to help drive your career & project success.
Mower Matches City Parks District's Needs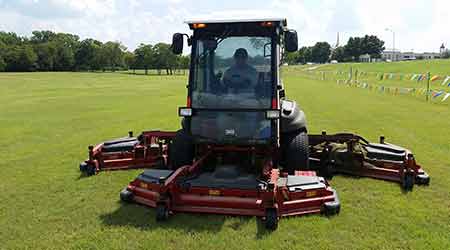 In 2015, the Plano, Texas, parks department was in the market for a new large area mower. It needed a mower capable of keeping up with 1,000 acres — and that's what led the department to the Toro Groundsmaster 5900.
November 28, 2016 - Grounds Management
Plano, Texas, is home to more than 60 parks, playgrounds and nature preserves. As the City's parks district supervisor, Eddie Benavides oversees 1,000 acres that need to be landscaped, mowed, trimmed and maintained for the city of 275,000 residents. After nearly two decades in his role, Benavides knows the importance of high-quality tools for caring for the land.

In 2015, the Plano parks department was in the market for a new large area mower. Benavides began looking for a new model after his crew faced numerous challenges with their existing mower. He needed a mower capable of keeping up with those 1,000 acres — and that's what led him to the Toro Groundsmaster 5900.

"I really didn't want to go back to our old mower brand," Benavides says. "We were having so many issues with them, and we weren't alone. We were hearing stories of similar issues from other park district supervisors, so we decided to do some research."

After carefully considering the needs of his crew, Benavides went looking for a machine that increased productivity and cut down time spent on the mower. Fellow supervisors pointed him in the direction of Toro, and he soon requested a demo of the Groundsmaster 5900.

"After seeing for myself exactly what the Toro Groundsmaster 5900 could do, I had my operators handle it and got their feedback," Benavides says. "They just fell in love with it immediately."

With its 16-foot cutting width, the Toro Groundsmaster 5900 is able to mow more than 100 acres per day — exactly what Benavides and his team needed to boost productivity. Plus, a tight turning radius leaves no blade uncut.

"The Toro Groundsmaster 5900 has cut down on mowing time for the guys," Benavides says. "It allows them to spend more time on the details of the park. They love the quality of the cut it offers, and they're impressed with how it can get into tight spaces, which leads to minimal time spent on trimming. Even more importantly, they're happy with the mower, which keeps them mowing and allows us to keep up with our work."

Innovative features of the Toro Groundsmaster 5900 set a new standard for Benavides and his crew. The built-in SmartCool system blows excessive debris off the intake screen, saving time and maintenance costs. The 5900 also maximizes uptime with an InfoCenter that sends maintenance reminders and notifications to operators.

Benavides again won favor with his team by acquiring the 5900 with the accompanying all-season cab. However, he was hesitant. In the past, other brands and their cabs were far from beneficial. What really sold him was the fact that Toro's all-season cabs were made in-house, by Toro. The Toro Groundsmaster 5900's air-conditioned cab, large operator platform and additional storage space keeps the operator cool and comfortable.

"The guys are loving it," Benavides says. "They're able to mow in air conditioning and avoid getting grass all over themselves. When they found out about the cab they were in hog heaven. I can't keep them off the mower, which means we've got a lot more productivity. They're definitely loving the unit."

Benavides and his crew haven't looked back since acquiring the Toro Groundsmaster 5900. The wider-cutting deck, quality cut and all-season cab have allowed the Plano parks department to maintain the 1,000 acres with ease and precision.

"I would strongly suggest other park departments look into this model," Benavides says. "It's awesome. I've had some bad experiences with some other mowers, but this one has been amazing. Other departments have different brands, but they're running into the same problems we used to have. In my opinion, we have the best one out of them all."


---
Comments