You Might Like
On FacilitiesNet
Drop Spreader Addresses Museum's Burning Issue with Snow and Ice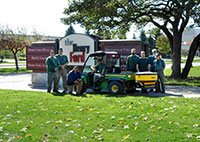 Keeping sidewalks clear of snow and ice is among the more important tasks grounds managers face.
May 23, 2014 - Grounds Management
Keeping sidewalks clear of snow and ice is among the more important tasks grounds managers face. Maintaining dry and clean sidewalks is especially crucial at facilities with thousands of visitors every year.
The Henry Ford Complex in Dearborn, Mich., is a national historic landmark consisting of the Henry Ford Museum, IMAX theater, Ford Rouge Factory Tour, Benson Ford Research Center, and Greenfield Village. The five attractions are part of a 240-acre campus that includes 1½ miles of sidewalks.
John Kulka, manager of grounds and garages, has 10 employees helping with snow and ice management during the winter months.
"Due to our type of operation, the expectation is to always have snow and ice cleared right down to the cement," Kulka says. "We're held to very high standards."
To keep sidewalks clear and prevent visitors from slipping and injuring themselves, the complex faced an expensive problem every spring: having to re-sod areas where salt was over-applied and burned grass along the sidewalks. Kulka began searching for alternatives.
"I started doing some Internet searching to find other ways of managing ice on sidewalks, and I discovered the drop-spreader concept," Kulka says. "However, I also needed something affordable so I wouldn't be out a lot of money if it didn't work."
Kulka chose a Drop Pro spreader attachment from SnowEx. The spreader holds 14 cubic feet of material and has an auger feed system that drops material in a consistent, 48-inch-wide line behind the spreader. By dropping salt in a tight pattern rather than throwing it with a rotary spreader, the attachment ensures de-icing material stays on the sidewalks and off the grass, Kulka says.
The new spreader produced surprising results, helping reduce the sod that needed replacing by 50 percent. In addition, the drop spreader now uses 30-40 percent less salt than rotary spreaders to cover the same area.
"Going into this, my only expectation with the drop spreader was to kill less grass," Kulka says. "We did that and so much more."

---
Comments